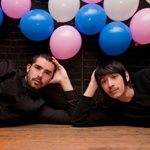 It's easy to assume that in order to make an impression with your video, you need a big budget, a lot of fancy equipment, and a well-seasoned, professional production crew. And sometimes you do. But sometimes that's not possible. Or maybe it is possible but you want to impose limitations on yourself for the sake of art as a process. Whatever the case, you can do interesting things with video with minimal, simple equipment!
Montreal/Los Angeles music production duo LOL Boys released the video for their song "Changes" today and while it's very simple, it's also a lot of fun to watch.
Jerome from LOL Boys answered a couple of questions that I had about the video and explained the equipment that was used:
"So glad you like the video! So basically I asked a bunch of friends to record themselves using any sort of webcam or camera phone while listening to the song "Changes." I also asked them to take a screenshot of their desktop. I used Photoshop to composite the backgrounds with the Photo Booth windows. I edited all the footage together in Final Cut Pro, and then refit the video into the Photo Booth windows, also in Final Cut. So yeah, I basically only used Photoshop and Final Cut in the video. Though I did use the new Quicktime to do the screen capture at the beginning of the video. I guess it's a pretty Mac heavy video."
Even though it's not a business video, I think it's a great example of a video that's entertaining despite using relatively bare-bones tools. It's a cool way to put a human face on their friends/fans and the changing desktop backgrounds add another layer of personalization. It's definitely not unprecedented to ask for fan contributions or testimonials in the business world, and this is a nice reminder that it can be okay to keep it fun.
It reminds me a bit of an exhibit that was at Boston's Museum of Fine Arts a little while back called "Seeing Songs," which featured a wall of screens of different people lip-syncing to Madonna, except that this comes in an easily shareable format. The software used wasn't necessarily cheap, but there's something refreshing about the use of minimal hardware to convey a message just as well or maybe better!