We're always keeping an eye out for businesses using video in great ways, and this product video recently released by Saddleback Leather is a great example. While most good product videos benefit from being short and sweet, this one clocks in at twelve minutes! Even more remarkable, it was totally engaging from beginning to end. So, why did I like it so much?
Clear concept, clear goal
First of all, it has a single, clear concept: "How To Knock Off A Bag." In it, Dave Munson (founder and CEO) explains to counterfeiters how to cut corners and save money as they try to rip off his legendary bags. Along the way, we see all the details of construction and materials that make his bags so rugged (and expensive).
This single, fun concept gives the video a clear goal: "Are you looking for a shortcut to success? Watch this 'How To' video and learn all of the shortcuts and tricks others already use to bypass quality. And you too can make loads of money knocking off our Saddleback Leather Briefcases. Riches untold!!!" (from the YouTube description).
The clarity of this simple (hilarious) concept gives Dave a focused audience to address. His ad-libbed comments to his supposed viewers (sweatshop owners, crime lords, grave-robbers) give the video humor and personality. And that's where the video really excels.
Incorporating personality
Video is most effective when it communicates your personality and values, building a personal connection, and ultimately a sense of trust, with your audience.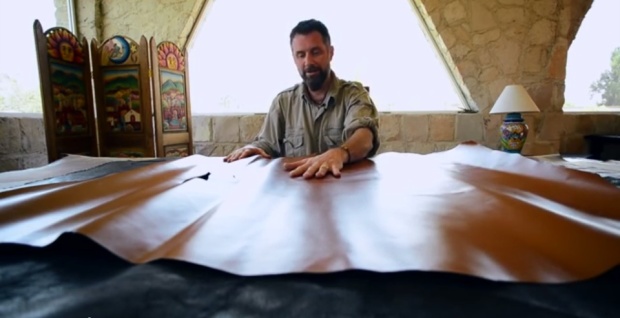 Over the course of "How To Knock Off a Bag", we don't just learn about the product; we also meet Dave, pick up on his sense of humor, and see the workers behind the process (and even their kids). We understand his passion for quality and craftsmanship, and come to trust him as an expert in everything from variations in stainless steel to how leather ages over time.
Lots of practice
So how did they make such a great video? Well from the looks of it, they've been working at it for a while. Their YouTube page has 191 videos on it, mostly (short and sweet) product videos, as well as at least one Australian alligator attacking a briefcase.
According to Dave's blog, they hired their part-time video guy on as a full-time employee in 2013. "At first, [filmmaker Joe Callander] asked, 'But what will I do?' After about three months of brainstorming and experimenting, he was so busy that we couldn't even imagine how we could NOT have a full-time person in film."
Looks like it's paying off.