We're super excited to welcome Camille Barichello to the Wistia customer happiness team! We did a quick interview to get to know her better - read on to learn about her past attempts at video, her air guitar and music obsession, and her favorite local brewery.
---
What's most exciting to you about working with video?
The funny thing is that I came into the job very nervous about video. My husband used to make movies, and we learned quickly that I am the worst actor ever. THE. WORST. So awkward and self-conscious. I can be helpful behind the scenes, but no one should try and put me in front of a camera. So I was pretty concerned that I would have to be in a video and it would be a terrible mistake for all involved.
Well, I've been here all of 3 weeks and now I'm itching to get into a video. Is that the magic of Wistia? MAYBE. (It will probably still be awkward and horrible, though.)
What have you been up to in the last year?
A lot of writing. I've been writing for my competitive air guitar site for a couple of years now and it really took off last year - and got me asked to help out with the main US Air Guitar site's blog! I've also been writing for a music blog, Music Savage, for the last few months.
Are you a dog person or a cat person? Why?
I guess I'm a cat person. I don't dislike dogs! I like them a lot. But I would not be a very good dog owner. I am a much better cat owner - it's less like having a pet and more like having a kind of needy roommate. I have two cats, Nona (named for a character on Pete & Pete!), who was rescued from a hoarder house where there were 31 cats, and Marty, who is just fat.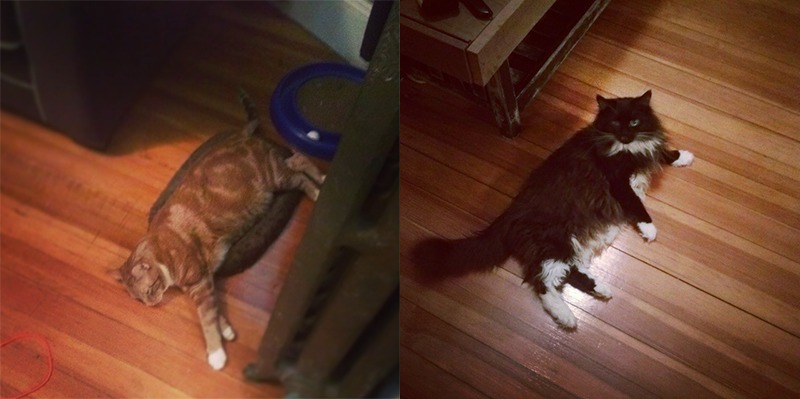 What's the best place you've ever been?
I've been some amazing places - I'm from Vancouver, lived in Indonesia when I was little, got to go to Belgium when my parents were briefly living there, and I've seen a lot of the US and Canada, but I think my favorite place might be someplace I've never been, but hope to go soon (turns out this year is off the table… but maybe next year) - Oulu, Finland, for the Air Guitar World Championships. From all reports, the experience of being there during AGWC is, no exaggeration, magical.
What's your favorite liquid?
Not to sound like a huge lush or anything, but I like a good beer. Interesting beer. I'm not married to any one style, but I like trying inventive stuff - recently my husband and I have been very into Night Shift Brewing, right outside of Boston, and they do some weird and fun stuff. If you're in the area and have never been, I recommend it!
Show and tell: share a video that you like!
Well, a pretty good air guitar video is the 2014 US National Champ, Airistotle, with his first-round performance at Nationals last summer.
Since not everything is about air guitar, I guess, have you watched David Hasselhoff's video for his new song in the Kung Fury movie? It is incredible.
What's a song you're loving right now?
Well, this question is impossible. Half the people I know are in bands, and I write for a music blog! I can't pick just one!
Honestly, the song I would pick isn't recorded anywhere yet; it's my husband's band, The Guilloteenagers, playing a song about Michelob. Yes, as in the terrible beer. Trust me on this. But, failing that, here are a couple songs that are great:
I wrote about this song for Music Savage, and it was stuck in my head for a solid week afterwards. "Why Can't Friends Just Kiss on the Lips Sometimes" by Secret Club. Dirty dark garage about smooching your friends: what is not to love there?
And for some local action, how about the incredible Tigerman WOAH! out of Lynn? These guys are so, so good - raw foot-stomping music about poor choices and bad people - and their live show is an order of magnitude better than literally anything I've ever seen. You get the chance, YOU GO. This is "Columbus Stockade" off their second-latest album, Up South Vol. II.