Fan Bi
is the co-founder of Blank Label, a custom dress shirt company whose mission is simple: to make the luxury and empowerment of custom more accessible and more affordable. You can follow him on Twitter at @lifeoffbi or Blank Label at @blanklabel.
Chinese New Year is the world's biggest annual human migration, and with Blank Label doing its manufacturing in China, it's our biggest annual production headache. Blank Label is an online custom dress shirt maker, and for two weeks each year around January and February, our tailors take two weeks off to travel home and spend time with families. In previous years, we've tried communicating the break with homepage browser pop-ups, banners around the site, support email auto-reponders, all of which generally cause confusion about why we're delaying our customers' orders.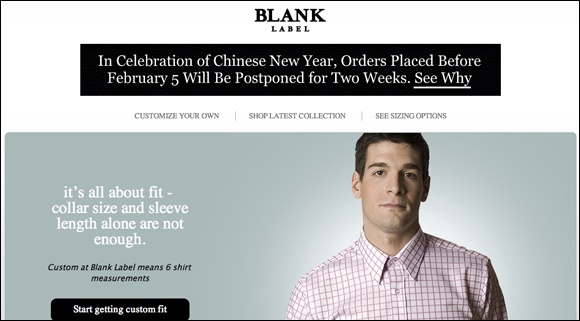 In addition, during the break, our sales always freeze up. People get turned off and just don't order during the period. We've had three years to try different communication tactics and just hadn't found a good way to communicate why people should be okay with their order being two weeks late. Late last year, we were introduced to Wistia, and the power of communicating a message online with video.
Immediately I understood why Wistia was better for business than YouTube, for us most notably. At the end of YouTube videos we posted, it would show related video from competitors. But it wasn't until I saw some profiles of businesses Wistia had done that I understood that Wistia wasn't just useful for screencasts, but that it could really communicate a story or message in a simple, engaging, brand-elevated manner.
This year we tried something different. We placed a banner on our homepage with a clear hyperlink that showed a pop-over lightbox video (with code simply copy-and-pasted from Wistia's new SuperEmbed). We've received dozen of compliments on the video, our orders have held steady through out break, and it's saved our customer service champions so much time explaining to people why their orders might be late. We're now looking to add video to other important elements of the site including Returns, How It Works, and launches of new products. With the power of a SLR camera, some light video editing and Wistia's SuperEmbed, we've been able to turn a customer and service frustration into a sales and branding win.
Do you have a frequently asked question or highly visited part of your site you think can be better served with video?