One thing we don't really do enough of on this blog is feature others' exemplary video content. We try our best to lead by example with our own videos, but there are a ton of different ways to approach video marketing, and to make a great video and use video effectively, you don't necessarily have to craft an over-the-top, high-budget, viral phenomenon. We feature others' videos and the stories behind them in our Why Video Matters series.
Minneapolis-based healthcare startup Clear.md connects providers and patients by allowing users to search for any health topic and watch short, clear, single-topic videos from local healthcare providers. You can follow them on Twitter at @clearmd. Brian Kuyath, the VP of Product Development, and John Brownlee, the CEO, talked to us about why video is so important for their business.
Using Web Video to Disseminate Medical Advice
Studies show that patients retain approximately 20% of what their doctor tells them during an office visit. Critical information on how to take medications, care for wounds, and manage chronic diseases is going in one ear and out the other as patients struggle to manage the complexity of their own health.
But what if you could take the doctor home with you, and access their expertise any time you need it? Would that improve clinical outcomes? Would that help patients feel more connected to their care team, and more in control of their own health?

These are some of the challenges that clear.md is taking on. The clear.md platform is like a "YouTube for healthcare,"  improving connections between healthcare providers and their patients through short, single-topic videos the doctors can film themselves. The videos can be prescribed to patients before, during, or after consultations to make sure patients always have access to the expertise they need from their own care teams.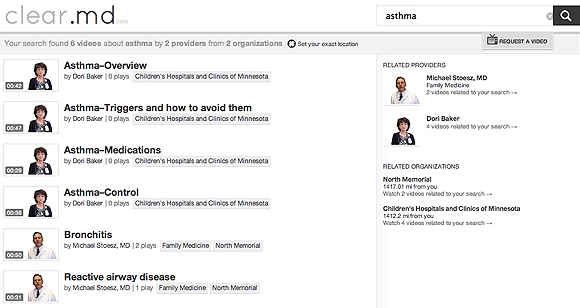 "It's great that we have access to so much health information online," says CEO John Brownlee, "but what's really powerful is being able to access my doctor's expertise in video form. That's when we really see patient engagement improve."
Clear.md's Mobile Studio Kits
Mobile technologies play a large role in the clear.md process. Healthcare providers can film their own video using one of clear.md's "mobile studio" kits and an iPhone or iPad. And Wistia has provided the ideal backbone for serving up video content through clear.md's website or other places across the web.
For more on how clear.md uses mobile to create their video library, watch the video below: