We recently announced the launch of the Agency Partner Program at Wistia, and we couldn't be more excited about it! We can't wait to start helping agencies and their clients thrive with video marketing. The launch of our Agency Partner Program also coincided with Digital Agency Day. Go figure!
This was a day of virtual events on topics relevant to digital agency professionals hosted by our friends at HubSpot and Unbounce. We held a #WistiaChat on #digitalagencyday that was all about mastering your marketing strategy. Bluleadz—an inbound marketing agency—joined us as experts and special guests for this chat.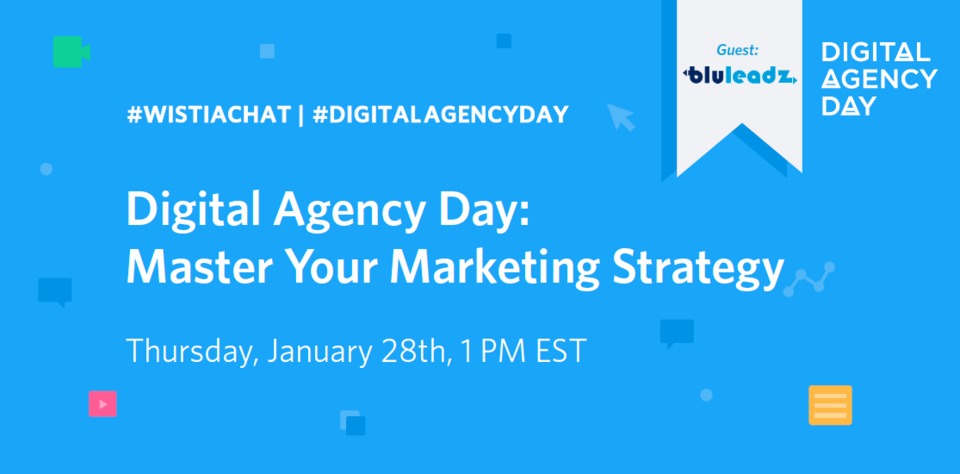 Spreading the word about the effectiveness of video marketing is one of our core efforts here at Wistia. You can read all about the highlights and takeaways from our #WistiaChat in this post.
Make your content work for you
This isn't exactly a novel revelation ("inbound marketing" is the new "marketing"), but providing your audience with content they're really hungry for is crucial to actually growing that audience over time. Creating valuable, engaging content on a regular basis is pivotal to any marketing strategy.
A1 We identify top of the funnel search terms & blog about those topics to place high in organic search. It's working! #wistiachat

— Cara Harshman (@CaraHarshman) January 28, 2016
Agencies in the content-creation business should also be aware of the importance of content curation. It's not enough to be entirely self-promotional. Sharing content from other businesses that might be of interest to your target audience can only benefit you. There is no shortage of content out there in the world, but sharing content that strikes a particular chord with your client's audience? That's a home run.
A4: Creation is key, as is curation. @MsLierre has great ideas on curation, b/c you can't create it all! https://t.co/HYXspWOsDE #WistiaChat

— Ervin and Smith (@ervinandsmith) January 28, 2016
One metric does not fit all
We asked which analytics were most important to focus on when showing how a campaign performed, and we received a surprising array of tweets! Our guest BluLeadz said, "Visitors, leads, reconversions, customers, subscribers, submissions or views," were the best metrics to watch. Many other folks pointed out how great engagement rates were when determining whether or not a campaign was successful.
What are your client's goals? What did they hope to achieve from the get-go when they hired you as an agency? These will affect what you measure and report on. Don't forget—different types of marketing efforts yield different results, so analyze accordingly!
A2: Relevant analytics depend on initial goals. Want more buzz? # of views. More leads? Number of conversions #digitalagencyday #wistiachat

— IndieWhip (@IndieWhip) January 28, 2016
When it comes to proving ROI to clients, the proof is in the pudding. It's all about the goals you set up at the beginning of a project. Establish clear goals and measurables, such as increasing traffic or generated leads. Then measure against those goals.
A3: Proving ROI starts at the very beginning by estab. clear goals. Are we boosting foot traffic, sales, leads? Then we measure. #wistiachat

— IAN (@iservin) January 28, 2016
A3: We show increased traffic & conversions for SEO clients, but ROI can differ by client need. #wistiachat

— Bruce Clay, Inc. (@BruceClayInc) January 28, 2016
When pitching video, come prepared
How do you convince a client that they should incorporate video into their marketing strategy? For some agencies, this might be a harder sell at first. Show your client how effective video can be by providing examples of other companies who have done it well.
Take baby steps. Test out a video versus text-based blog post. Which performed better? Having the numbers to back up what you claim is a great way to get your clients on board with video. Did you know that on-site video has been shown to grow website traffic by 200-300%? That's not only true, but it's convincing. It's likely your client already recognizes the importance of video, so come prepared with the information and resources you seal the deal.
A5: @wistia We use video in most things we do - we practice what we preach #digitalagencyday #wistiachat via @eric_baum ????

— Bluleadz (@Bluleadz) January 28, 2016
A5: A/B test a blog vs video of same topic with their audience. What did they engage with more? #WistiaChat

— Hansen N Hunt (@unomos) January 28, 2016
Connect with your audience, and then learn from them
Social media is not just a "nice to have" in this day and age, it's a priority. Agencies use social media in all sorts of unique ways, from prospecting and sharing content, to learning more about their client's audience and customers. Finding out what channels are appropriate for your client's market is a really important step in making sure the content lands, whether it's a blog post or a video. These channels are also perfect for starting conversations and making your client's brand feel more human.
A8: Less glib answer: social media gives clients unprecedented insight into audience and helps me make more relevant content #wistiachat

— IAN (@iservin) January 28, 2016
A8 Social sharing to increase engagement & session length is a focus for clients. Goes back to content. #wistiachat #DigitalAgencyDay

— Gayla Worrell (@gaylaworrell) January 28, 2016
---
Want to dig a little deeper? Check out our Storify for some other highlights. Interesting in joining us next time? You're in luck! Our next #WistiaChat is Thursday, February 11 at 1 pm EST. We'll be talking about producing video for social media and how these videos differ from other types of video content. Hope to see you there!