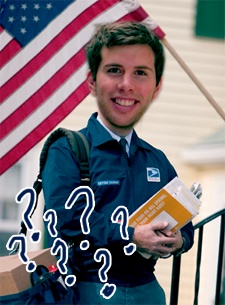 We receive lots of mail every day from our great customers around the globe. We thought it might be fun and helpful to open up the Wistia Mailbag and give our readers a peek into our recent frequently asked questions. For the first installment of what will become a regular blog feature, we're talking about Turnstile, SEO Embeds, and what file formats look best!
1. "Now that I've got a video embedded using Turnstile, how do I get the email addresses into [insert Email Marketing product here]?"
Turnstile was one of our biggest (and best executed) feature launches to date. While we have loved using pre-roll email capture on our own Video Marketing 101 series and many customers had inquired about such a feature, we didn't know what the uptake would be. When we started, we also didn't have the functionality to pump the emails gathered from the pre-roll into your viewer analytics.
So our plan for launch was to answer these two major questions. Along the way, we also did a lot more - we learned how to apply this to iOS devices, which we'd never seen done previously. We also got it working within our SuperEmbed paradigm and with any embed code type, which makes it infinitely more useful for our customers. To think only 6 months ago, creating a popover or a post-roll CTA was a confusing workflow and customizing the colors on the player was an impossibility.
With sky-high adoption rates amongst customers, we've determined Turnstile is a feature that is driving business growth, both for us and our customers. The next natural step is funneling that data into email marketing providers databases (i.e. Pardot, Constant Contact, MailChimp, HubSpot, Campaign Monitor, etc.). We're chatting with the best in the biz, and I believe we'll have something to present to our customers soon.
In the interim, it is still possible to move the email addresses gathered through a Turnstile-enabled embed into your email marketing provider of choice. First, you'll need to open the media page of the video in your account that you've embedded (the media page is where you can play the video in your account). Under the Media Actions drop-down menu, select "Stats" to bring up the stats page of that individual video. All the way down at the bottom of the page you will see an "Export to CSV" link.
The "Export to CSV" functionality will give you the raw export of your viewing data - including email addresses! Add those to a list in MailChimp, and you're ready to send them a newsletter, product mailing, or just say hey.
2. "I've got my sitemap created, and my video embedded on the page, but when I go to add to my sitemap, I get an error. What gives?"
To accurately answer this question, I need to take a step back, and talk about Video SEO for a hot second. Video SEO success has one major requirement: play by the rules set out by Google to make sure your videos are indexed. In many cases, Google's rules are set up around the goal of efficiency - sitemaps and metadata make it faster to index video content. But Google has also set rules for where content must exist in order to be indexed. iFrames, which essentially pull page data in from another location to show up on your page, are treated as black holes of content to Google. If the direct video assets are not present on the page, they will not index it.
This rule, in particular, puts video hosts like ourselves in a tough position. iFrames are much more resilient in the mean world of Content Management Systems (think Tumblr, Wordpress) than embeds containing the direct assets and other important things to make the video play correctly - like Javascript. In our case, Video SEO is very important to some of our customers, so we've chosen to produce another type of embed code for SEO purposes. While many customers can use the standard iframe embeds, some can choose the "SEO" embed type. If you have created a video sitemap for a domain in your Wistia account, the SEO embed code option will show up in the SuperEmbed builder. If you plan to add the video to your SEO sitemap, you must use this embed type for it to work. iFrames and playlists (which also don't actually embed the video content onto the page until the specific video in the playlist is played) are not eligible for indexing at this time.
3. "I want my videos to look awesome - what settings should I export my videos at to make sure they look their best on the web?"
In a perfect, utopian world, all video editors would have the ability to export to MP4 natively. Flash also wouldn't be such a pain in the behind, and I would beat Chris every time I played him in ping-pong. But (unfortunately for me) that's not the real world -- there are codecs and sizes flying around everywhere out there!
Where possible, I recommend exporting to MP4 using the h.264 codec, 1280 px wide, and between 2 and 3,000 kilobits/second bitrate. We transcode every video uploaded to get it ready for the web, but these settings mean we've got a good quality starting place. It also ensures we make an HD transcode of your video, so if your viewers decide to go fullscreen, they can enjoy your video in it's full glory. If those settings won't work with your videos, that's okay -- we accept a bunch of video formats.