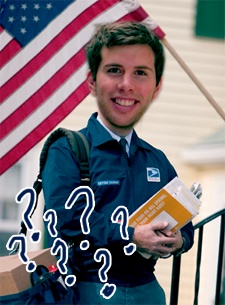 We receive lots of mail every day from our great customers around the globe. We thought it might be fun and helpful to open up the Wistia Mailbag and give our readers a peek into our recent frequently asked questions. Today's installment includes video encoding and email marketing.
1. "Does Wistia provide 'high-def' video encodes?"
When a video is uploaded to Wistia, our encoding machines (called "the bakery") analyze the inner-workings of the video to determine what to do next. By default, they will create two standard definition encodes: an FLV, which is used in the Flash player, and a MP4, which is used with the HTML5 player and on mobile devices (including iOS).
If the original video is HD quality (720p or larger) HD encodes for both formats (FLV and MP4) are created. The FLV is for normal desktop viewing, and the MP4 is for those slick resolution screens on the new iPad.
You may have noticed we don't have an "HD" button on our player...and are wondering "what's up with that?". It all comes down to a confusing term: bandwidth. With an "HD" button on the player, your viewers may attempt to watch in HD - even when their internet connection cannot support it. They end up in a terribly loop of buffering and stuttering. Guess who wins in that scenario? No one.
So we went a different route, starting with the question, "where does HD become most important?" The answer is at full-screen size. With Wistia's Auto-HD capability, if your viewer full-screens the video, and an HD encode of your video exists, our player does a bandwidth test on the viewer. If their connection can support it, the player will seamlessly switch to the HD encode. If not, they will continue streaming (smoothly) the standard definition. While your gorgeous video is important to us, it's most important for your viewers to have access to your content. Head here to read more of our thoughts on HD.
2. "How does one go about using the email marketing functionality with [insert email provider]?"
Folks fall into two categories with this particular question:
1. They use an email platform we're already partnered with.
2. They are looking to use one we haven't heard of yet.
If you fall into the first camp:
The first step is to decide where your viewers will watch your video. Your viewers will receive an email with the video thumbnail embedded - clicking it will take them to where they can watch the video - and you can track their viewing session. If you want your viewers to watch the video on your homepage, start by going through the SuperEmbed process and get it embedded on your site.
Next is creating the embed for your email marketing provider. In your account, open up the video you want to share, and select "Email Marketing". Choose your provider from the list, and you're off to the races!
If your provider isn't on the list:
If your provider isn't on the list yet, that either means we haven't heard of them before, or they don't support dynamic merge tags, which are necessary for the analytics we provide. Either way, drop us an email, and we'll get you an answer either way as soon as possible.