WistiaFest is next week! We've been prepping like crazy, and we can't wait to see everyone in Cambridge. We're really looking forward to hearing Mackenzie Fogelson, founder and CEO of Mack Web, on how to convince your boss, develop useful KPIs, and succeed in your larger marketing goals with video. We couldn't quite wait until next Wednesday, so we did a little interview with Mack ahead of the conference!
How did you get started with video?
Last year, Mack Web wanted to try something different in our marketing strategy so we introduced video for the very first time. We were getting ready to launch a 147-page community building guide that we had been working very hard on for more than 8 months. We wanted to use something powerful to promote the launch. We knew video would effectively convey our personality, cultivate a connection, and authentically communicate who we were as a company. Even though it was our first time, the videos were a huge success.
Did you encounter any production challenges?
Lucky for us, we had someone on our team who had some production experience, some gear, and was able to guide us through the process. That was a huge help since it was our first time and we really had no idea what we were getting into.
When we were planning the videos (there were 5 total in the series), my first role was to write the scripts. I speak quite often, so I thought writing the scripts would be a breeze. Turns out I made it a whole lot more complicated than it needed to be.
I was trying to put too much information in each video. The first scripts were way too long. There was so much I wanted to say and I really wanted our audience to feel like they were getting something of value. I now understand that with video, less is more. Now I get how important it is to just focus on communicating one thing, and communicating it very clearly and succinctly.
The team at Wistia was also a huge help throughout the entire process, but especially as we were scripting. When I got stuck, I reached out to Elise for some guidance and she sent me several posts from the Learning Center that we used as our scripting guides. Those videos and resources really helped us to improve our videos tremendously.
How do you measure the success of a video?
We had two very basic goals for the community building guide promotional videos: earn signups for the guide and build brand awareness. So in terms of key performance indicators (KPIs), we measured three things:
Play Rate
Rather than simply views, we wanted to know how many people actually pressed play and watched our videos. We knew that the thumbnail we used for each video could make a big difference in play rate, so we tried a different action shot for each one. The winner was me in a hard hat with fairy wings :)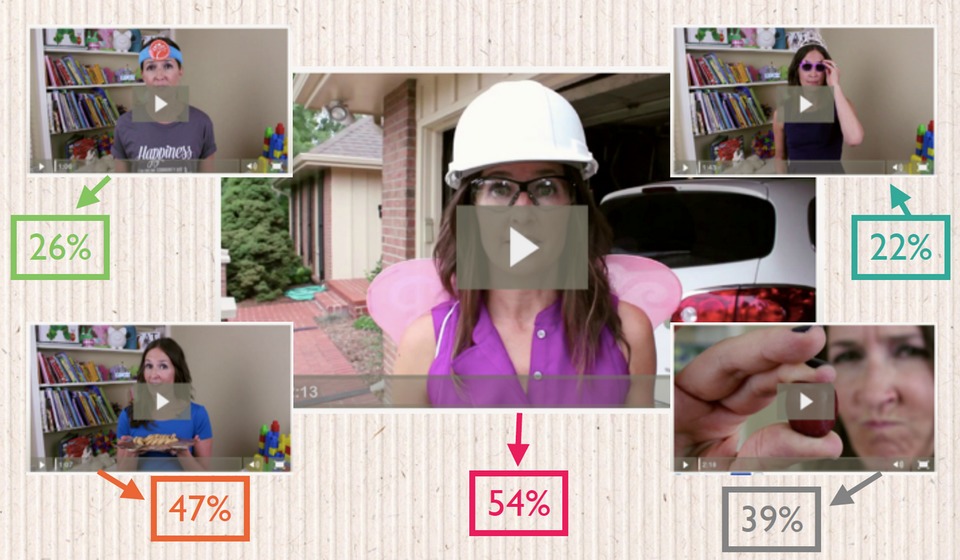 Average Engagement
We wanted to know how engaged our viewers were with each video. We had great engagement with all 5 videos, but we had the most engagement with the Make Friends With Other Communities video. I think it's because of the Nutter Butters.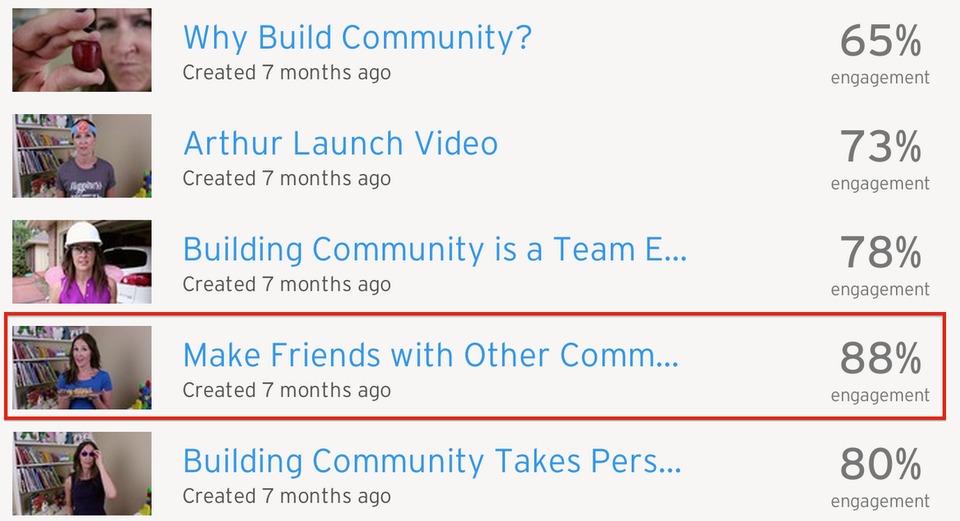 Guide Signups
Certainly we wanted to know how many signups we earned from our video efforts. We had embedded a call to action in each video that led the viewer directly to a Launchrock page where they could sign up for our guide. We earned 176 signups just with our video efforts.
We also did all kinds of other things on social media, with email marketing, some speaking gigs, and all kinds of blogging in addition to our video efforts. Everything together helped us to earn 350 total signups, which was our goal (and that really made us happy).
For someone just getting started with video, what would your biggest suggestion be?
I have two suggestions:
Start with Goals
And not just for your videos, but the things you want to accomplish for your business. I'll talk a whole lot more about this at #wistiafest, but having goals will keep you focused and make your efforts run more smoothly. Goals will also help you determine what you're going to measure (KPIs) and whether your efforts have helped you accomplish what you set out to do.
Integrate All the Things
Think beyond the video. When you have that asset developed, how can you leverage additional channels to build on your existing efforts (both before and after the video has been developed)? What can you do on social media to build momentum or promote the video once it launches? Can you develop a series of content for your blog that supplements the messages in the video? Can you hold an event that helps you accomplish your goals with developing the video in the first place? How about email marketing? What can you do there?
Video is an incredibly powerful tool and it takes a lot of effort to make them great. So make sure you get the most out of what you've already done by embracing and integrating additional channels.
Come to #wistiafest! May 20-22. Join me @randfish @philnottingham @csavage @brendan @HeidiMcKye and more: https://t.co/yrhjQkCESD

— Mackenzie Fogelson (@mackfogelson) May 5, 2014