Your video content is truly powerful - and Wistia customization can ensure engagement with your audience, which drives business for you.
On this page, we'll cover the customization options for your video, and explain the Customize panel.
Once you customize your video, you can also choose to embed it with your customizations.
Wistia offers a lot of robust tools to make your online videos your own. You do do lots of awesome stuff with Customize, including (but not limited to) changing the player color, choosing your own thumbnail, adding and removing buttons, autoplaying your video, and adding interactive elements to keep your viewers engaged with your content.
The Customize panel (Video Actions > Customize) is where all the magic lives, and should be your first stop after upload. Let's dive in.
The Customize Panel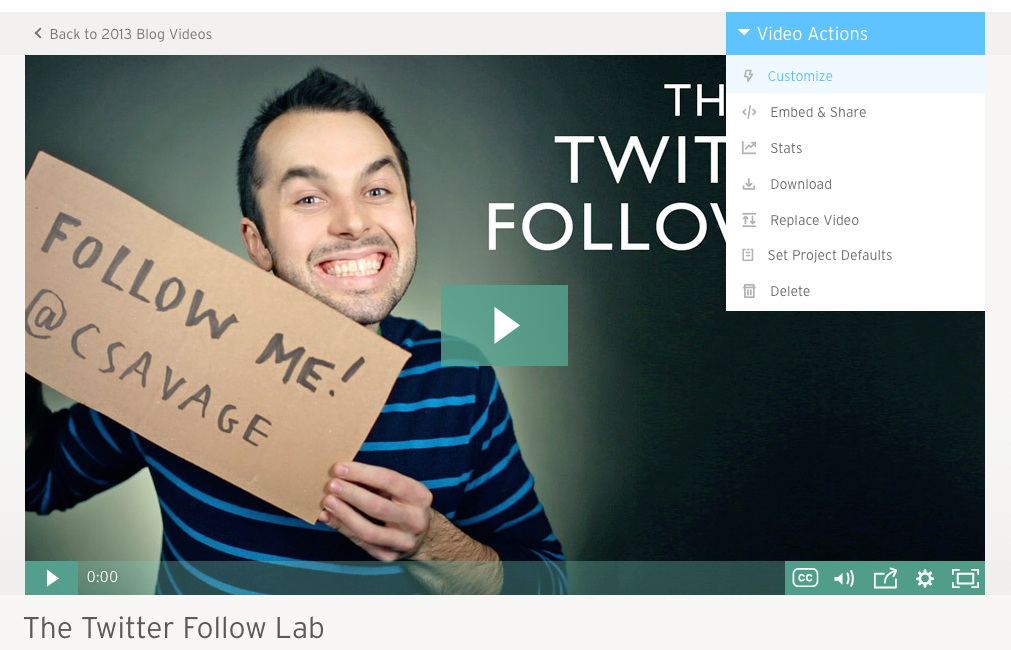 After uploading a new video, the customization step gets it ready for the big time. Open the customization panel by selecting Customize from the ▸ Video Actions menu.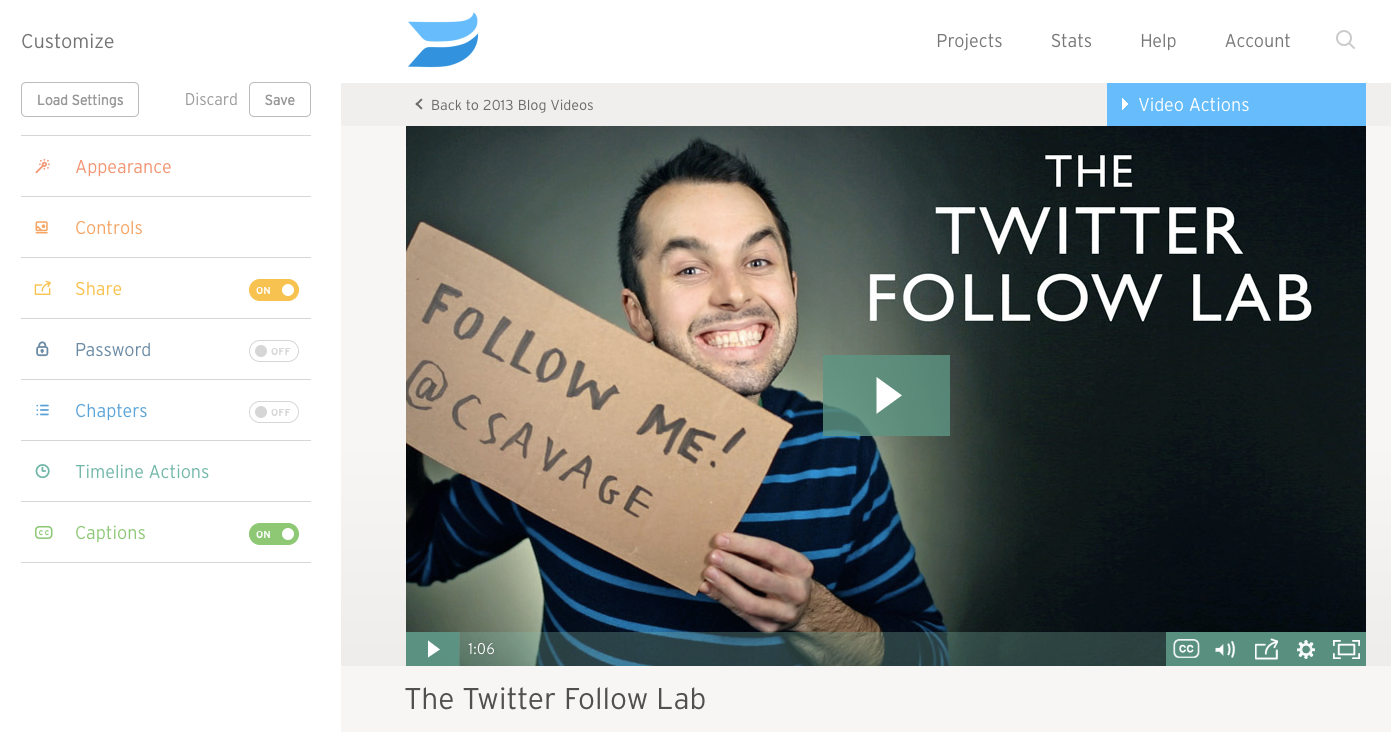 The Customize panel slides out to reveal an array of different options for your video. Let's walk through an overview of the customization options, along with some of the advanced level tools for customization.
Appearance
The first step in making your video truly your own—update the Appearance. The Appearance options are about getting your video looking sharp. This drawer houses things like custom thumbnail, player color, and comment controls. Check out our full Appearance guide.
Controls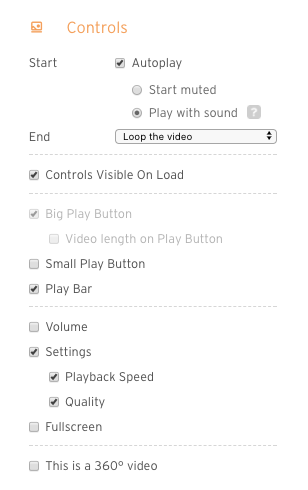 The Controls area allows you to tweak the player controls on your video. Here you'll be able to control a good amount of your viewers' experience, by adding or removing any Wistia player buttons.
Check out our Controls page.
Share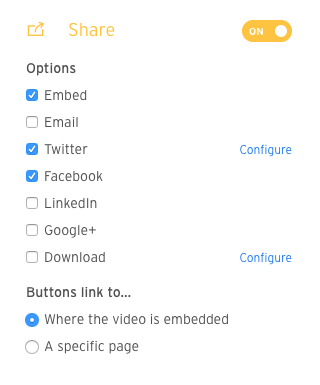 The Share option allows you to give your viewers the option to share your videos within their own social networks. Viewers can share you videos on Facebook and Twitter (among others), and even embed your videos on their own sites.
Check out the Share page for more details.
Password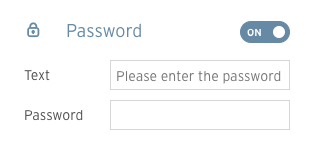 The Password feature allows you to gate your video content with a password. Add a password to any video, and share it with viewers you trust.
Check out the Password page for more.
Chapters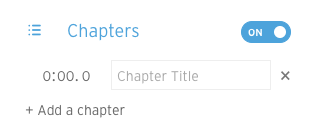 Adding chapters to your long or short-form content is super easy with Wistia's Chapter feature. Chapters allows your viewers to navigate through your content with just a few clicks. They can watch the content that's relevant to them, and skip the rest.
The Chapters page has all of the details.
Timeline Actions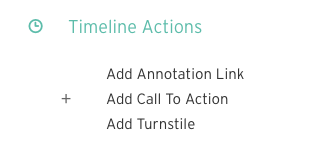 Timeline Actions are an easy way to get your viewers to take action with your videos. They're sort of like the sprinkles on top of your (already amazing) video cake. Within the Timeline Actions drop down menu we house all sorts of great tools—like start and end behavior, Turnstile email collector, Calls to Action, and Annotation links.
Read all about Timeline Actions on our help page.
Captions

Captions are an important part of making your videos accessible to your audience. They're great for educators and instructors, and make it super easy for your audience to follow along in any language. And the icing on the cake? They're great for video SEO, since Wistia will inject the transcripts into your on-page markup.
English captions can be ordered through Wistia at a rate of $5/minute. You can also choose to upload your own SRT files (for free) in any languages.
If your video already has captions, the Captions customize area will allow you to edit, download, or delete the captions. You'll also see an option to order or upload another SRT file.
Read more about captions with Wistia.
Advanced Customize Features
There are a few powerful customization features we've added to make consistency and organization a little easier.
Set Project Defaults
If you upload your videos in batches, or have lots of videos in your Projects, this one is for you.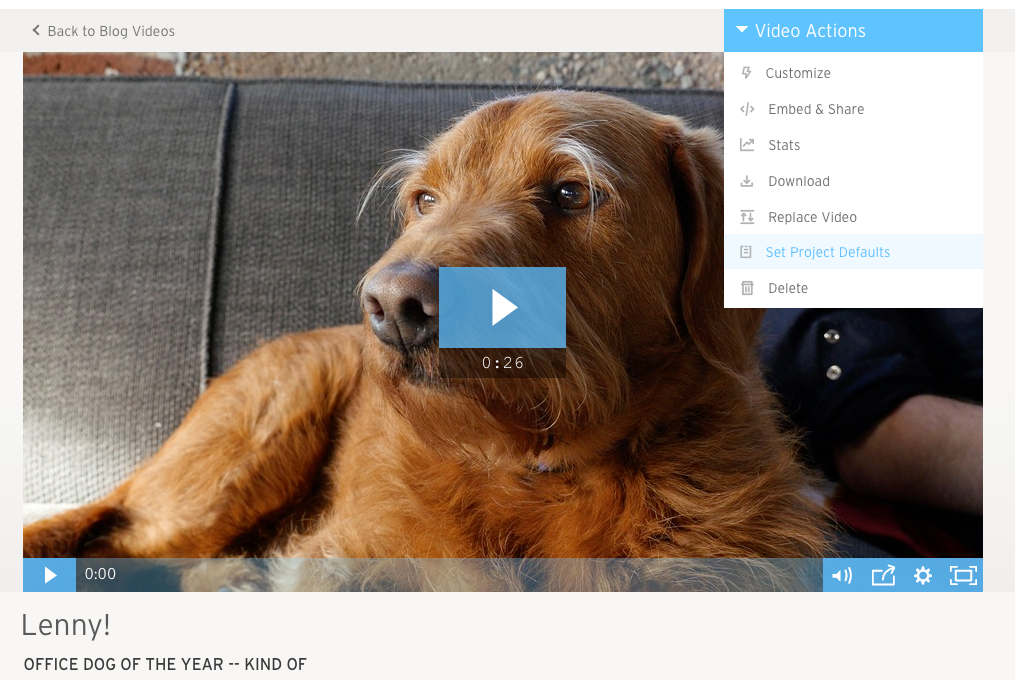 Once you have the customizations for your first video all set, select Set Project Defaults from the ▸ Video Actions menu.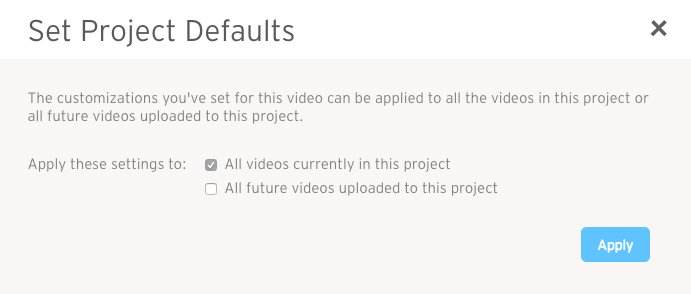 The Set Project Defaults screen has two options:
Apply the customization settings to all videos currently in the Project.
Apply the customization settings to all future videos added to the Project.
These are not mutually exclusive - you may choose to use both. This means once you apply a set of customizations to a single video, you can apply them automatically to all the videos in the Project, and all the videos going forward.
Note
Just a heads up, project defaults can only be set for projects with less than 1,000 medias. If you're working with more, you should create a second project and use Move & Copy to move your videos.
Load Settings
If your videos across Projects share common settings, this one will save you lots of time.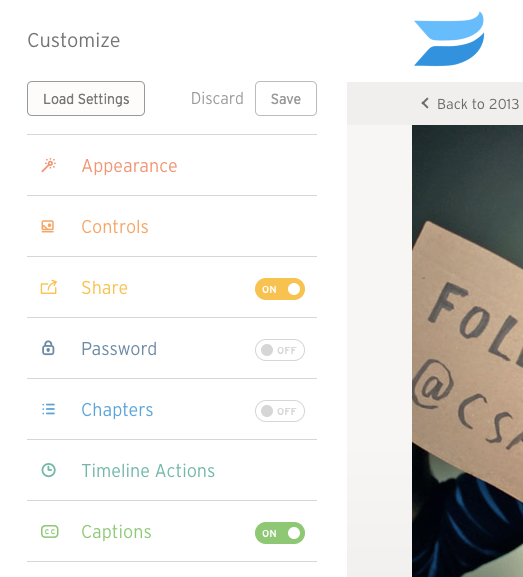 If you've just uploaded a new video, or want to add the customizations from one video onto another video, you should use Load Settings. Inside the Customize panel, select the Load Settings button at the top.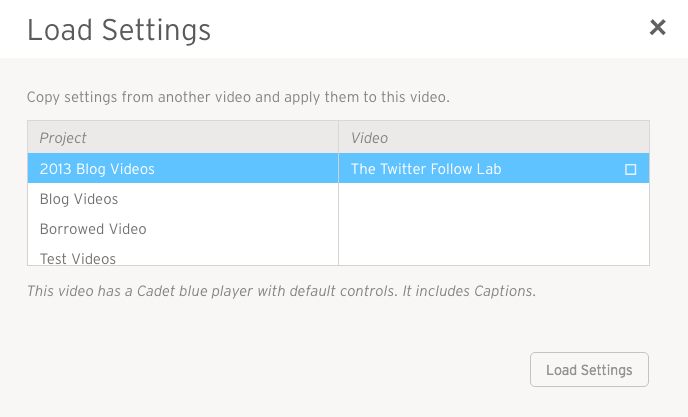 Load Settings includes a list of your Projects, and the videos within those projects. When you select a specific video, the copy underneath will describe the customizations on the video, which if you ask me is pretty slick.
Customization FAQ
Q: Do you have an awesome animation explaining how Customize works?
A: Yes, yes we do.
Q: What if I want my videos to appear differently (i.e. have different customizations) in two different places?
A: Each version of the video in your account will only have one set of customizations. To have the same video with different customizations, you will need to create a new instance of the video.
The quickest way to do this is with the Move & Copy tool. Create a copy of your video, and start applying new customizations to it!
Q: You said customizations would show up on Twitter, but what about Facebook?
A: Unfortunately, because of the limitations of Facebook embedding, we are not able to push all of your awesome video customizations over there. (Right now we can only push player color.) That being said, we are hopeful that Facebook will start to update their methods for pulling video information so that we can get the customizations flowing!
Q: When I enable comments will that comment box show up on my website when I embed the video?
A: Nope! Just on the Wistia media page in your account.
Q: Will my customization show up when I use Playlists?
A: You will have to reset your customizations if you choose to create a Playlist, and many customizations (like Annotation links) are not available with Playlists. Any updates you make to these customizations will have to be re-embedded as well, since player customizations are hard-coded into the Wistia Playlist embed code.
For this reason we recommend using Embed Links to create playlists. They're a much more versatile system, and any updates to your videos in the in-app Customize panel will automatically be reflected live on your embedded videos. Check out our help videos page for a live example.