Vulcan is finally here for everyone. Read all about Wistia's new player, and check out all the sweet perks.
Introduction
Wistia's got a fancy new player! The new player, which we're lovingly calling "Vulcan" (in succession to our previous players Romulus and Remus), is the product of years of technical research and development, user testing, and some extremely fruitful beta testing. We're so excited to share it with you, and tell you why this is more than just a fresh coat of paint.
But before we gush, check it out for yourself.
4K Video
We've added more video quality support into the player, so viewers can choose to watch your videos all the way up to 4K. If they're working with slower connections, they can opt down to 224p.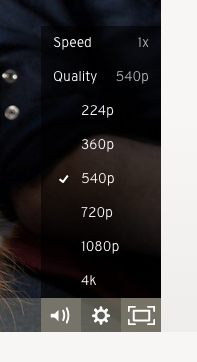 Playback Speed
In response to customer demand—we've added playback speed support. Now your viewers can watch videos 2x or 1.5x speed (or even .5x if you're someone who talks too fast).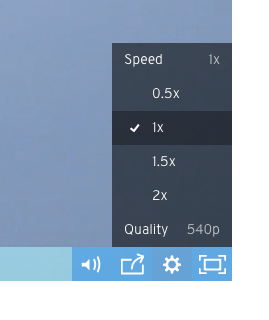 Hover for Thumbnail Preview
Seeking through a long video to find the important scene isn't fun for anyone. Well fear not, video friend! No more guessing games. We've added a thumbnail preview on hover to the new player, so you can find the exact shot you're looking for.

2x Faster Embeds
There's no need to re-embed your videos once you make the switch to Vulcan. We have, however, introduced an upgrade to our embeds that will require some legwork on your part. Again, it is not required for Vulcan, but it's a helpful update.
Speed Demon is a new snippet of code that will make your embeds load twice as fast as they used to. If you'd like to "activate" Speed Demon on your embeds, you will need to re-embed your videos. All new embed codes have Speed Demon baked right into them, so you won't need to do anything special to your embed codes in the Embed & Share modal. Just copy the code for your video and replace it out in the wild.
For the curious, the Speed Demon snippet looks like this:
<script src="//fast.wistia.com/embed/medias/a61xmla9gk.jsonp" async></script>
HLS Support
The new player comes with support for HLS (HTTP Live Streaming). HLS is a better way to serve video files with adaptive streaming. HLS improves upon Wistia's bandwidth detection capabilities by making it possible to switch quality streams in the middle of playback. We'll monitor your viewers' connection in real time and adjust the quality of the video as it plays.
Long or short, HLS works on all video types. Even better news—this is the preferred format on iOS, so no more iPhone worries!
Sharing Buttons
We updated the social sharing functionality too. Since we've built the social buttons right into the player, you don't have to worry about an ugly social bar taking up your site's valuable real estate (or messing with your embeds). Now your viewers can share your content with buttons right in the player.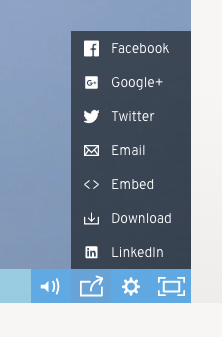 Share videos on Facebook (goodbye Facebook Like button, hello Facebook Share!) and Twitter, and allow your viewers to download your videos. Check out the Share buttons page for all of the details and full functionality.
Accessibility
Vulcan is fully accessible to screen readers. All viewers can now use keyboard shortcuts, like tabbing, to control the player.
What's the Same?
We've kept everything you know and love about the old player. It's fully customizable, you can add and remove player controls and match the color of the player to your brand. We've still got all of the fantastic lead-gathering tools in Timeline Actions and the accessibility offered by captions.
Analytics and stats are right where you left them, too! Track individual viewer sessions with heatmaps, and check out aggregate data with engagement graphs.
FAQ
Q: What about the Flash player?
Remus (our name for the Flash player) will continue to look the same as the old HTML5 player. This is because the new player is not compatible with Flash. We've made the decision as a team not to invest in the development of a new Flash player since much of the internet is moving away from Flash. Google has announced it will soon no longer support Flash in Chrome, and Apple abandoned Flash long ago. It's likely many other browsers will follow suit.
Q: What about legacy browsers? Like IE 7, 8, and 9?
We'll continue to use the Flash player in legacy browsers.
Q: Can I still use playlists?
You can definitely still use playlists with the Vulcan player, but it's important to note that some features will not be available. Things like annotation links, the share buttons, and the settings button aren't part of our playlist functionality.
If you'd like to use all of these features with playlists, we recommend using Embed Links instead (which is how we built this nifty page).
Q: What's happening to the old Social Bar?
As you might have noticed, the Share functionality is built right into the new player, so the Social Bar is no more. Currently, the Social Bar is a 28px tall container (which is usually as wide your video) that sits below your player. When your videos were switched over to the new player, the Social Bar functionality was be replaced by the Share buttons.
Since the video embed code was built with the Social Bar sizing in mind, when you make the switch your videos out in the wild will lose their social bar buttons. The buttons will be replaced with an invisible container that will look like empty space on your site. We recommend re-embedding the video to alleviate any design problems this might cause.
While we recognize that this isn't the most elegant solution, it's unfortunately impossible for us to edit every website that has a Wistia player on it. If you have any concerns about the Social Bar—or the new player at all—don't hesitate to reach out to us!