Video playlists are a great way to embed multiple videos on your website through a single embed. Playlists allow you to update content in your playlist without messing with embed codes (even after embedding!).
They take up less real estate than separate video embeds, while being easier to navigate. In short, they are a super cool and useful embed type.
Alert
Playlists have some limitations. You can check out the full list at the end of this page, but ultimately we recommend using Embed Links if these limitations affect your workflow.
Playlists and Projects
Wistia playlists include all of the videos in a Project within your Wistia account.
Embedded playlists automatically show the videos in a project in your account. If videos are added to the project, those videos will be added to the embededded playlist out the in wild with no need to re-embed. If you update the titles of the videos, add sections—yep, you guessed it, they'll both automatically update.
Note
Playlists can be made from projects. They cannot be made from sections of projects or selected videos from within a project. Use Move & Copy to better customize a playlist.
Here's an example playlist:
And here's an example of what that code looks like:
playlist.html
1




2




3




div class="video_embed">


<iframe

 

src=

"//fast.wistia.net/embed/playlists/aodt9etokc?media_0_0%5BautoPlay%5D=false&media_0_0%5BcontrolsVisibleOnLoad%5D=false&theme=tab&version=v1&videoOptions%5BautoPlay%5D=true&videoOptions%5BplayerColor%5D=54bbff&videoOptions%5BvideoHeight%5D=371&videoOptions%5BvideoWidth%5D=660&videoOptions%5BvolumeControl%5D=true"

 

allowtransparency=

"true"

 

frameborder=

"0"

 

scrolling=

"no"

 

class=

"wistia_playlist"

 

name=

"wistia_playlist"

 

allowfullscreen

 

mozallowfullscreen

 

webkitallowfullscreen

 

oallowfullscreen

 

msallowfullscreen

 

width=

"660"

 

height=

"371"

></iframe>




</div>



Creating a Video Playlist
To get started, head to a project within your Wistia account you wish to create a playlist for. Next, choose Get Playlist from the ▸ Project Actions menu as shown below.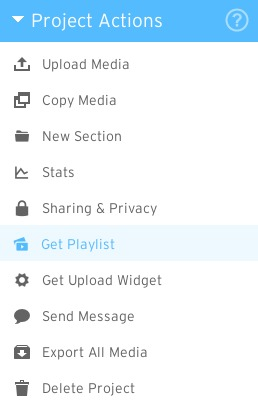 Once you've selected the Get Playlist option, you'll be taken to a page where you can customize your playlist and find the embed code. An example of the playlist customize screen can be seen below: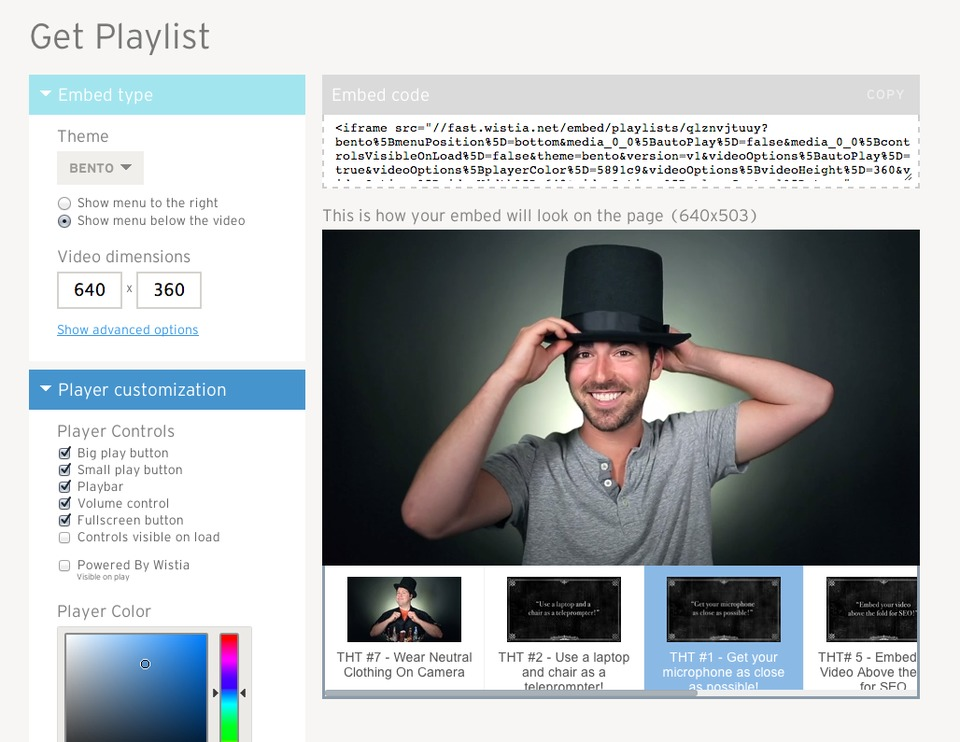 There are four playlist themes: Bare, Slide, Tab, and Bento. The example above is using the "Tab" theme.
Choose the theme you'd like to use, the size for the embedded playlist, and other customization settings on the page. Keep in mind, these settings will override any customizations you may have applied to the individual videos in your playlist with the Customize panel.
Responsive Playlists
API playlists can be made responsive by selecting the Responsive option within the playlist builder. (iframe and Popover playlist embeds cannot be made responsive at this time.)
The responsiveness is based on the dimensions of the first video in the playlist. We recommend making sure that all of the videos within your playlist have the same aspect ratio. Otherwise, this means that if you have a vertical video after a 16:9 video in a playlist, the playlist will be 16:9 and the vertical video will have black borders on its sides.
Playlist Limits
We're working hard to get the playlists feature up to date, but it's important to note that there are some Wistia features that might not work the same way they do with an individual video.
Here's the full list of features that aren't compatible with playlists:
annotation links
calls to action
Turnstile on an individual video (you can gate playlists with a new Turnstile on the Get Playlist page)
autoplay (this can be turned on for the entire playlist on the Get Playlist page)
Password feature
player color customizations on individual videos
player responsiveness (when using an iframe or popover embed code type)
MAP integrations (when using an iframe embed code type)
Google Analytics (when using an iframe embed code type)
With all of this in mind, we recommend using Embed Links to create playlists. Embed Links are a super simple way to create a playlist of Wistia videos while maintaining customizations. As we continue to build and iterate on our product, Embed Links will end up being the base code for playlists v2.
You can check out an example over on the Help Videos page. They're super easy to work with—just copy and paste some hashed IDs and you're good to go!
As always, give us a shout if you need some help. 💌