Soapbox is a video creation tool from Wistia that allows you to record your screen and webcam at the same time, then turn the streams into a high-quality video with dynamic transitions.

Getting Started
Before your big screen debut, you'll need to make sure Soapbox is properly installed and ready to go. Let's make it happen!
Note: Soapbox is currently only available in the latest version of Chrome.
Installing the Chrome Extension
Your journey begins on the Soapbox landing page:
Click the Install with one click option to get started. Once you've installed the extension you will be prompted to grant webcam permission to Soapbox, so you'll be able to begin recording. Make sure you grant permission, or you won't be able to record anything!
Setting Up Recording Devices
Soapbox will automatically use the default camera and microphone for video and audio. In most cases, these will be the built-in options on your computer. To choose an external device, click the Soapbox icon in your Chrome toolbar. Click the gear icon (for settings) in the top left corner of the preview window to choose a different video and audio source.
Camera Settings
To change the quality of your dual-stream recording, right click on the Soapbox icon and select Options. On the Options page, you can adjust the frame rate, bitrate, and dimensions of both your screen capture and webcam capture records.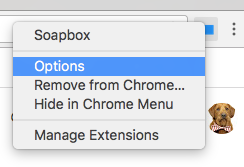 If you're concerned about the quality of your video, you'll want to set these options as high as possible. Keep in mind that two simultaneous video recordings can take quite a toll on your computer. We recommend that you close any unnecessary programs while using Soapbox.
Minimum System Requirements
Recording multiple streams of video and an audio stream from your computer can be somewhat taxing on your computer. For that reason, we've put together some minimum system requirements for using Soapbox. Anything less than these settings will likely make using Soapbox difficult.
Dual core 2.0 GHz or Core i3 1.7 GHz processor, or better
2 GB RAM
128 MB video RAM
Note
Not sure if you qualify? To see your computer specs, on a Mac click the Apple icon in the top left corner, and select About this Mac. On a PC you'll want to check in Control Panel > System.
Record Your Video
Now that your computer is all set up, let's get to work!
Starting the Record
Soapbox uses dual-stream recording—which just means that Soapbox records both your screen and from your webcam at the same time.
To start your dual-stream recording, click the Soapbox icon in your Chrome toolbar and choose Start Recording. You'll be asked to share your entire screen for the screen capture. Then a three second countdown will begin. When the countdown switches to a flashing red light, it's showtime!
To end the record, hit Stop Sharing at the bottom of the screen, or click the flashing red light in your Chrome toolbar.

Filming Tips
As you'll discover in the editing section, the beginning and end of the video can be trimmed. Messing up that opening line? Keep the record rolling, you can easily trim out those earlier takes.
While recording, your screen will be visible instead of your webcam. This is done to allow you to present without the distraction of seeing yourself on screen. Nervous about how you look? Maintain eye contact with the camera, speak clearly, and you'll do great. We promise. 😘
Edit Your Video
Once the video is finished recording, it's time to bring the two separate video feeds together to make a masterpiece.
Trim
Cut the start and the end of your video to ensure you have a crisp beginning and ending. Just drag the scissor markers on the bar below the player. Your changes will autosave as soon as they are made.
Layout
Now it's really time to take advantage of everything Soapbox has to offer.

Edit your video to switch back and forth between webcam capture, screencast capture, or split-screen. Click anywhere on the editing bar, and make your selection from the list of icons.

Let's take a closer look at those options:
Split-screen
Webcam capture
Screencast capture
The magnifier can be used with both the screencast capture and split-screen modes. The webcam capture will not magnify on its own. Clicking + and - will zoom in and out. A specific area of the screen can be focused on by dragging your cursor on the player itself.
Clicking Done will save your edit, and the trash can will remove it from the edit bar.
Thumbnail
You can make one of two selections for setting a thumbnail for your Soapbox video: you can either take a picture with your webcam, or you can select a particular from from your video.
Snap a brand new photo with your camera to serve as the thumbnail of your video. Remember that despite the live camera preview, your thumbnail will not appear mirrored.
When selecting a frame from your video make sure you have seeked to the part of the video you would like to set as the thumbnail. The simples way to do this is by hovering the edit bar.
Note: the size of the play button is dynamic, so it may not always match exactly what you see in the thumbnail capture.
Color
Updating the player color is the simplest way to make the Wistia player your own. Just select the color you'd like from the color picker. You can also input a hexadecimal color to get your branding perfectly on point.
In preview mode, the background of the page will also change to a lighter hue of the player color you chose.
Call to Action
A Call to Action is a clickable message that appears at the end of your video, and it lets your viewers know what you want them to do next. Craft some text and add a link to anywhere you want to send your viewers.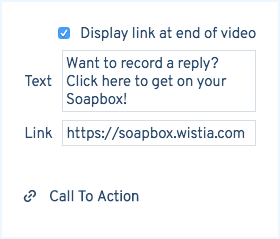 The Call to Action feature will remember your settings from the last video you made. So if you'd like to reuse that same Call to Action, all you have to do is click the checkbox to turn it on for your new video.
Edit Video Title
By default, the title of your video is the timestamp from when you recorded. This can be updated anytime by selecting the Edit option next to the timestamp. Edit the title text, and press the Done button to save.

Good news! Changing the title of the video won't affect any links, so keep on sharing.
Saving Edits
Soapbox uses an autosave feature that saves periodically as you're making edits. This way, you don't accidentally lose your work! A message in the bottom right corner of the page will let you know when an autosave has occurred.
Preview Your Video
Before you send your video to your entire contact list, you might want to Preview the finished product. Switch over to Preview mode, by clicking Preview next to your avatar.

When you're done taking a look at the current state of your Soapbox video, simply click Exit Preview if you need to go back to the editing process. Keep in mind that only the owner of recordings (that's you!) gets to see the editing controls, and that folks you send the video to will only ever see the finished product.
Share Your Video
You've edited your video and it's looking fantastic. Let's share it with the world!
In the Share section, you'll have the option to copy the thumbnail link to your clipboard, or just copy the URL only, if that's your thing.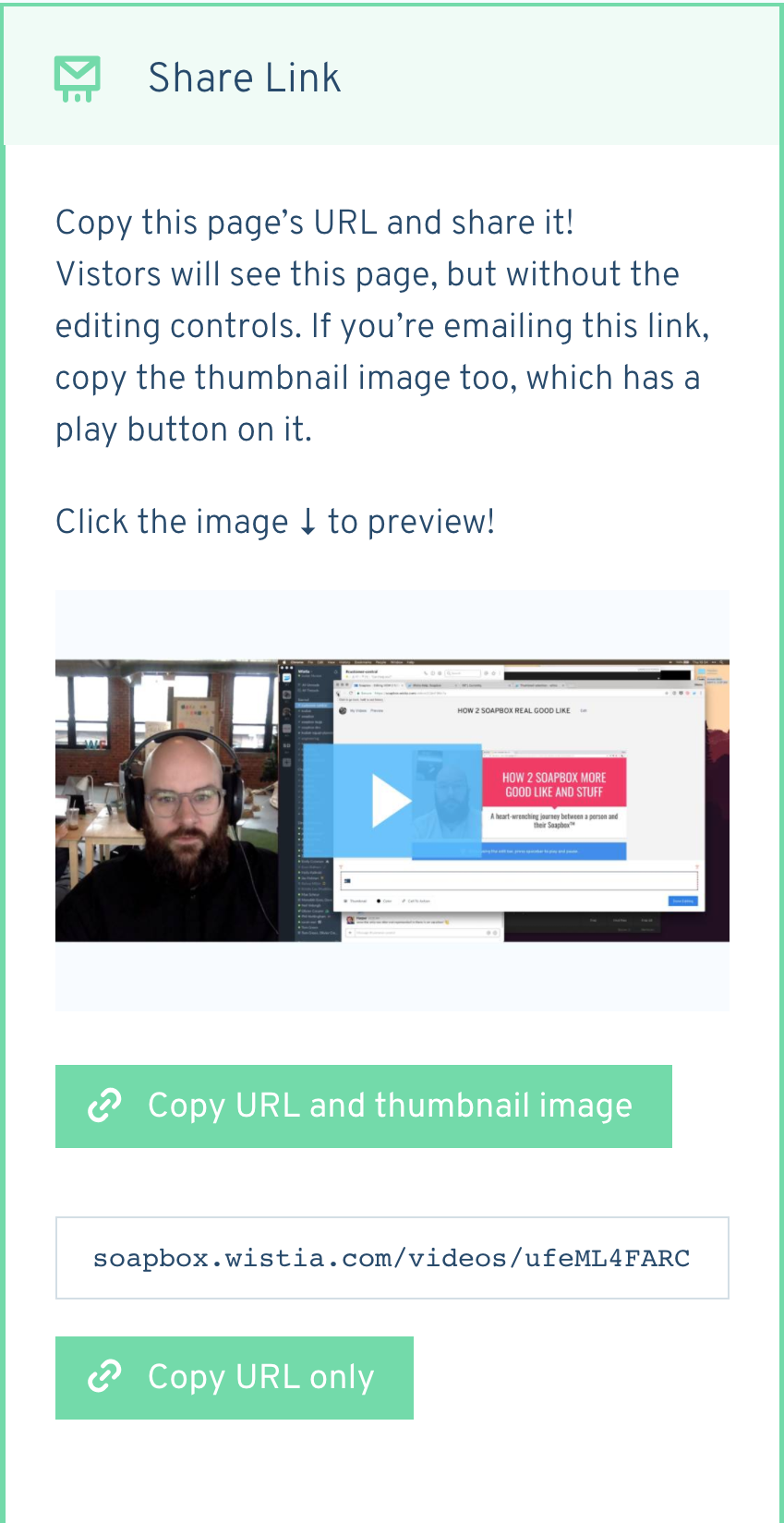 If you're sharing the thumbnail and link, we recommend using an email client with a rich text editor (Gmail, Outlook, and Yahoo all work great!). You can also share the direct URL to the video on social media.
Video Storage
All recordings will be kept safe in the My Videos section. You can get there directly from the Soapbox icon, or by clicking your Chrome profile picture in the Edit area for any video.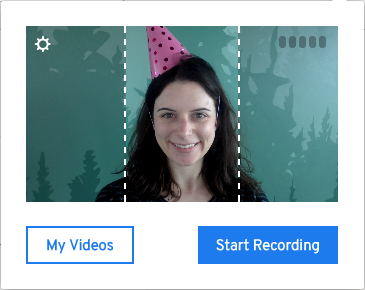 Videos in this section can be continually edited, in case you ever need to update your recording.
Exporting to Wistia
When you're done making a Soapbox video, you can now export that video to Wistia!
How to Export
Alert
Videos recorded in Soapbox can only be downloaded from your Soapbox account. If you try to download a Soapbox video from within Wistia you will be directed back to Soapbox
When you've got your video in tip-top shape, click the Export option found under the Done Editing menu. You'll see two options the first time you run through this experience:
Sign into a Wistia account
Create a new Wistia account
Either works! If you end up creating an account you'll get redirected through a flow to create an account, then be dropped into that account when you're done. Once you're there you can hop back over to your Soapbox video to keep moving along.
When you click Sign into a Wistia account you'll either be presented with a list of accounts (of which you should select one) or a confirmation window. Selecting an account from the list if you see it will lead to that confirmation.
Read the warnings and confirm you'd like to give Soapbox access to your Wistia account. When you do you'll see that the connection options have been replaced with a project selector and an Export to Wistia button. Select a project and export!
Once you export, the video will appear in the specified project in you Wistia account. You can use the link that appears to access that video in your Wistia account quickly and easily.
Permissions Needed by Soapbox to Send Videos to Wistia
When setting up the Wistia account you would like to export your Soapbox videos to you'll encouter a confirmation window that lists out the permissions being requested with the following message:
Authorize Soapbox-Wistia Integration to connect with your Wistia account?

Once authorized, this application will be able to read, update, and delete anything.
Notes About What You Can Export to
The Export to Wistia functionality of Soapbox utilizes the Wistia oAuth2 API to gain access to your Wistia account. As a result, you will see any account you've been added to as an option to export to.
In the projects that you're allowed to export to, you'll see any project you have update permissions on. Generally speaking, any project in the selected Wistia account you can upload to will show up in that list.
Wistia Features Unavailable for Soapbox Videos
There are currently three features that are incongruous from normal Wistia videos at this time:
Use Current Frame functionality in Customize
Downloading a Soapbox video in Wistia unavailable until a later date
Ordering captions (though you can still upload captions)
Stats and Your Soapbox Video
As a note, stats work totally normal with Soapbox videos you have exported to Wistia, but stats accumulated on your video inside of Soapbox will not be reflected on the one in Wistia. They're different videos, the one in Wistia being a copy of the one in Soapbox.
Pitfalls to Look Out for
Any Soapbox videos exported to Wistia will not receive any edits made to them from the Soapbox side. To get those changes in Wistia you will need to re-export your video from Soapbox.
Removing Soapbox Authorization from Wistia
If you no longer want to connect your Soapbox to a Wistia account, or just want to authorize a different account, you can so so via the Account section of Soapbox, which is found via the Account option at the top of your My Videos page (or at this link: https://soapbox.wistia.com/account). Once you disconnect, you'll see the option to Connect an account once more should you choose to.
Soapbox Pro
Soapbox Pro lets you unlock the power to download your Soapbox creations and remove branding from Soapbox pages.
Selecting a plan
There are currently two plans you can select for Soapbox Pro: single-seat and multi-seat. Choosing a multi-seat plan gives you a per-seat discount.
Adding users to your plan
Once you have purchased a plan and added seats to it you'll be redirected to your account view where you can see the details of your subscription and invite folks to fill the seats you've purchased for your plan. Here's what that view looks like: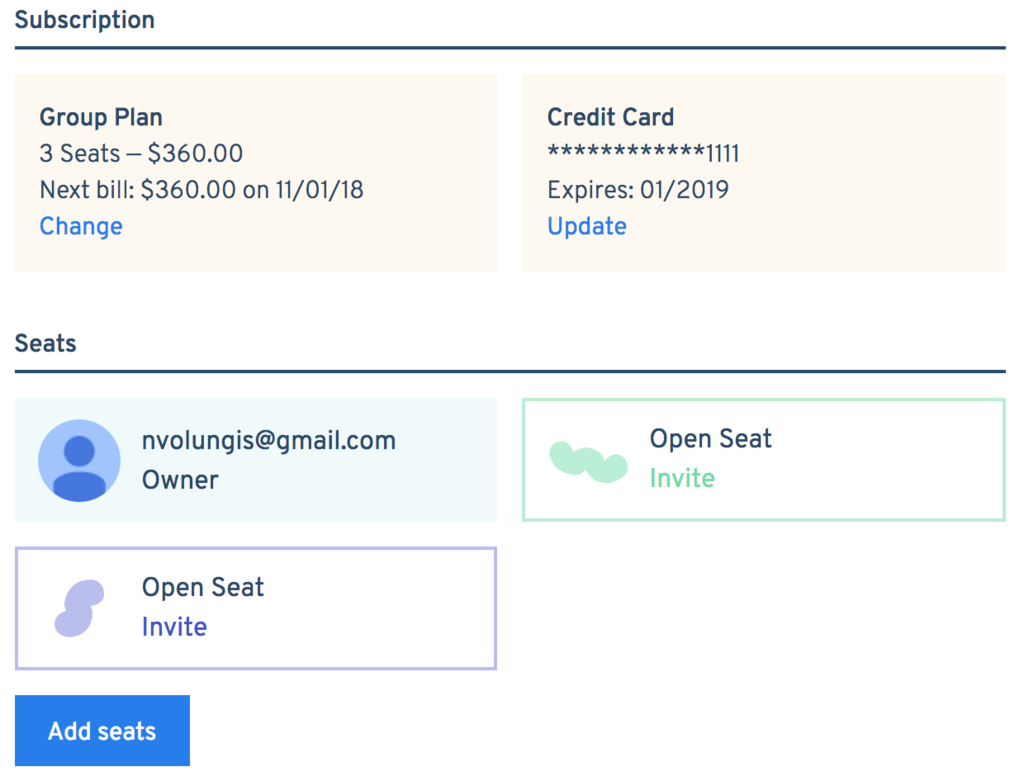 Making changes to your plan
We're still working out functionality for you to make changes to existing subscriptions, but in the meantime you can shoot us an email via the form in your account or by sending us an email at soapbox@wistia.com.
Soapbox Pro Features
Downloading Soapbox Videos
Alert
If you try to download a Soapbox video from within Wistia you will be directed back to Soapbox
From the Share menu you'll see an option to Download videos when you've got Soapbox Pro. When you click the Get Download button we'll begin wrapping up your Soapbox creation in a neat little package. When it's done we'll send you an email with a link to download the video.
Note: This process can take a bit of time depending on your Soapbox recording settings and length of the video. Longer videos at higher framerates and resolutions take a bit longer to bake, which you'll notice reflected by by the progress meter.
When you've initiated a download of a Soapbox video you'll see the following two states of the Share menu that indicate just what's going on with your download. The link will show after a Soapbox video download has already been prepared, which you can click to access that file whenever you like.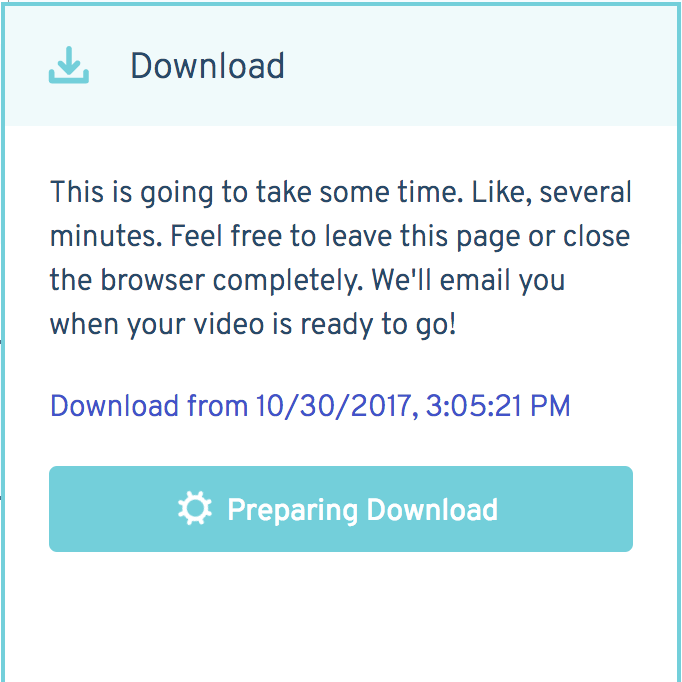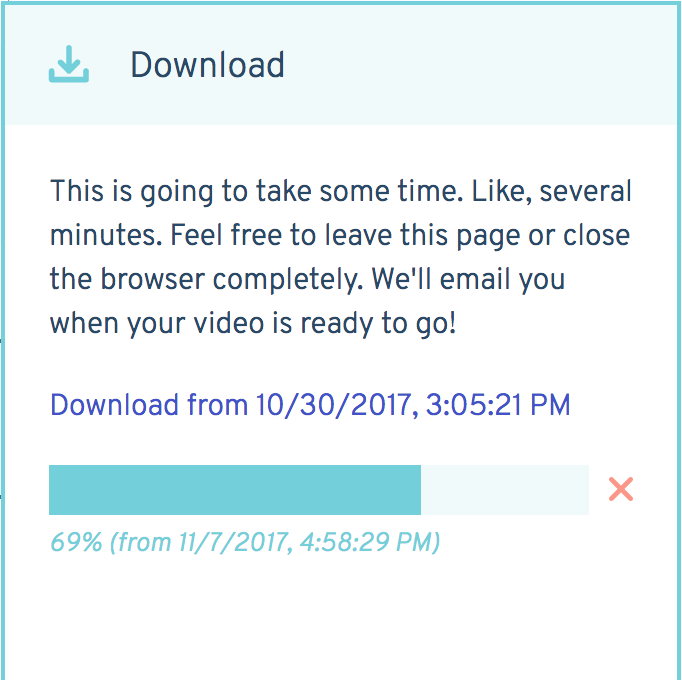 Removing Soapbox
Not feeling comfortable on your Soapbox? No problem at all.
If you'd like to completely remove Soapbox from your Chrome browser, you'll have to remove its permissions to your Google account.
While logged into Google, go to myaccount.google.com.
In the Sign-in & Security section, click Connected Apps and Sites.
Click Manage Apps.
Find Soapbox in the list of apps, and click the button to remove it.
This will remove any access Soapbox has to your Google account.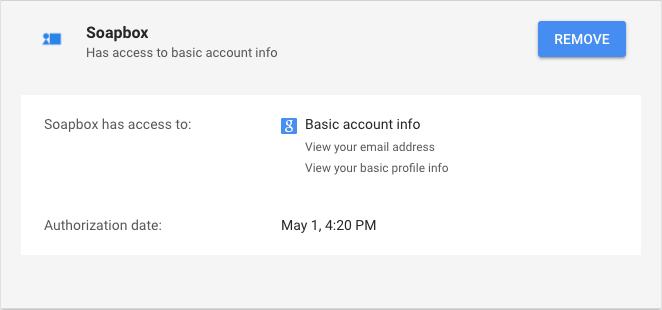 Once that is finished, only one step remains. Right click the Soapbox icon in the Chrome toolbar, and select Remove from Chrome.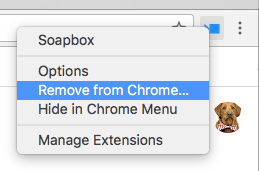 That's it. See you around! 👋
Troubleshooting
Soapbox Isn't Loading
Things aren't loading for you with Soapbox? Start by fully restarting Chrome (quit the application if you're on a Mac) and try again. Sometimes Chrome simply needs a restart to clear out the funkiness.
What do I do if Soapbox can't see my devices?
First, check to make sure that Chrome can see your devices. You can see that on the Video Capture tab of your Media Internals Chrome page: chrome://media-internals/ (note: that URL will only work in Chrome since it's a link to a Chrome settings page)
That will display the devices that Chrome can record—if it's an empty list, then Chrome can't detect your devices (and neither can we). We rely on Chrome's ability to access camera and audio—so you'll need to allow Chrome access to the hardware in order to use them with Soapbox.
Poor Quality Webcam or Audio Problems
Soapbox can be a pretty usage-intensive extension depending on your settings. If you're having troubles with video and audio streams being captured smoothly the first step is to look into issues with your system resources. There are two main ways to do this:
Use the Options for Soapbox to turn your settings down to find resolutions or frame rates that work better for your computer. You can do this by right-clicking the Soapbox icon and selecting Options—this will take you to a page where you can tweak your capture settings. Smaller videos with lower frame rates require fewer resources, so some combination of these settings should get things to both look nice and record smoothly.

Quit any resource-heavy applications you might be using, as they might conflict with the Soapbox extension. Depending on what operating system you're on this can be done in different ways. On a Mac you can use the application Activity Monitor, on Windows the Task Manager program fills that need. These applications will let you spot things using lots of RAM or CPU, and those will be the things that will impact your ability to use Soapbox seamlessly and ensure your recordings look and sound great.
Helpful details to send when you're alerting us to an issue
Generally, it's helpful for us to know as much about your viewing and recording environment as possible. The base level details that are helpful to send along if you're seeing issues with Soapbox include, but are not limited to:
Specific version of Chrome
Specific version of your Operating System
A link to the Soapbox video in question
General computer specs (such as CPU cores/speed, amount of RAM, etc.)
If applicable, external cameras and drivers
FAQ
Will you be introducing [insert feature] soon?
Hard to say! Soapbox is still a super young product and we've got a long list of things we know we want to do, and likely many more things we haven't yet thought of. If you're looking for something specific, definitely let us know!
How to Get in Touch
Email support questions to soapbox@wistia.com.