You signed up for a Wistia account—that's fantastic news! Let us be the first to throw you a party. Here's how to dive right in, and use Wistia to grow your business.
What is Wistia?
Wistia is a video hosting and analytics company with tons under the surface. With Wistia you can upload your content to the web, make it your own, and track how every viewer is watching your it. We give you to power to understand how video is working for your business, and how to make it work even harder.
To get the most out of your Wistia experience, we made this quick start guide. We'll walk through uploading your first video, customizing it, sharing it with the world (or a few coworkers), and viewing the stats for the first time.
Introductory Webinar
Have 30 minutes, and want our fantastic Customer Champion, Camille, to walk you through your account? Grab yourself a cup of coffee, sit back, and check out the video below.
Upload a Video
To get started using Wistia, you'll need to upload a video. We've got a video that walks you through the steps:
When you're exporting your video from your editing program, be sure to use our recommended export settings. This reduces the chance of any problems after you've uploaded the video.
In Wistia, your videos live inside projects. Think of projects like folders on your computer: you can have as many as you need, and each one can contain one or more videos.
Before you upload your first video, you'll need to create a project for it to live in. If you haven't created a project yet, you can do that by choosing New Project from the ▸ Actions menu on the projects page.
Now you have a video file ready for upload, and a project ready to house it. To get the video to its new home, open up that project by clicking on it, then either choose Upload from the ▸ Project Actions menu, or just drag the video file from your desktop to the project page (if you're using Chrome). We'll take care of the rest!
But Wistia, what is the rest, you might ask? When you upload a video, it will take a few moments to be ready for you to watch or customize. That's because we're busily creating several versions of your video, which we call derivatives, so that your viewers can get the best possible quality that their connection can handle without buffering.
We won't make you wait until all of those versions are complete, though—once some derivatives are ready, you'll be able to go ahead and start customizing. We'll keep working in the background.
For more on uploading, visit our uploading help page.
Next up: customizing your video!
Or Record a Video
Did you know you can also record a video right from within Wistia? If you don't have any videos handy, why not record one? (You can always delete it later.) To record a video simply create a new project, or click into an existing project. From there, select Record from the ▸ Project Actions. You might be prompted by your browser to allow Wistia access to your microphone and camera, and then you should be good to go.
Hit Record, create your masterpiece, and save it for later.
Customize It
Next up, you'll want to make that video all your own by customizing it!
After you've uploaded your first video, you'll land on the video page within Wistia. From here we can see lots of things, like Customize, Embed & Share, and Stats.
Customizing your video makes it your own—you can match the player color to your brand, add and remove player controls, gate your content with an email form, add chapters, and even password protect your video.
From the video page in your account head to Customize from under the ▸ Video Actions menu. This will open up the Customize panel, where you can customize the player to your liking. We recommend just diving head first, and exploring things, but if you need some guidance:
There's lots to do in the Customize panel, so check it out, and hop on in. The water's great! 🏊‍♀️
Share It
It's now time to take your customized video and show it off to the world! 🔭 When it comes to sharing your video with an audience, we've got many ways to help!
An important note—your Wistia account is not indexed by search engines. Your account (and the videos within it) will never come up in a Google search. Your videos remain private within your account; they are only available to the extent that you embed and share them.
To start things off, here are two common ways to share video!
Embedding
Embedding the video to your site? No problem! We've designed this process to be simple for you, giving you two main options for embed codes: inline embeds, and popover embeds. To generate an embed code for any video, head to your Embed & Share modal (under ▸ Video Actions), select your embed code type, and copy the code!
For an in-depth walk through, check out our embedding page.
Tip
Fun fact! Our standard embed is SEO-friendly with the ability to place our video metadata right on your page. This can help improve your video's presence on search engines. For more on that, check out our help page.
Social Sharing
If you're looking to get your brand out there, then social sharing is for you! Here's a quick example of sharing on Twitter:
Many social sites allow you to drop in your Wistia URL right into the post you're sharing. Our social sharing page has the full details.
See the Stats
Wistia stats are the best way to get a complete view of who is watching your video and how they are viewing and interacting with it.
Check out the video below, where we outline the two main stats features you can find on any stats page for a video in your account: engagement graphs and heatmaps. 📈
Engagement Graph
An engagement graph gives you an overview of how your audience watched your video. It's interactive, which means that if you hover over a specific moment, you'll get corresponding data—neat!
Check out this screenshot: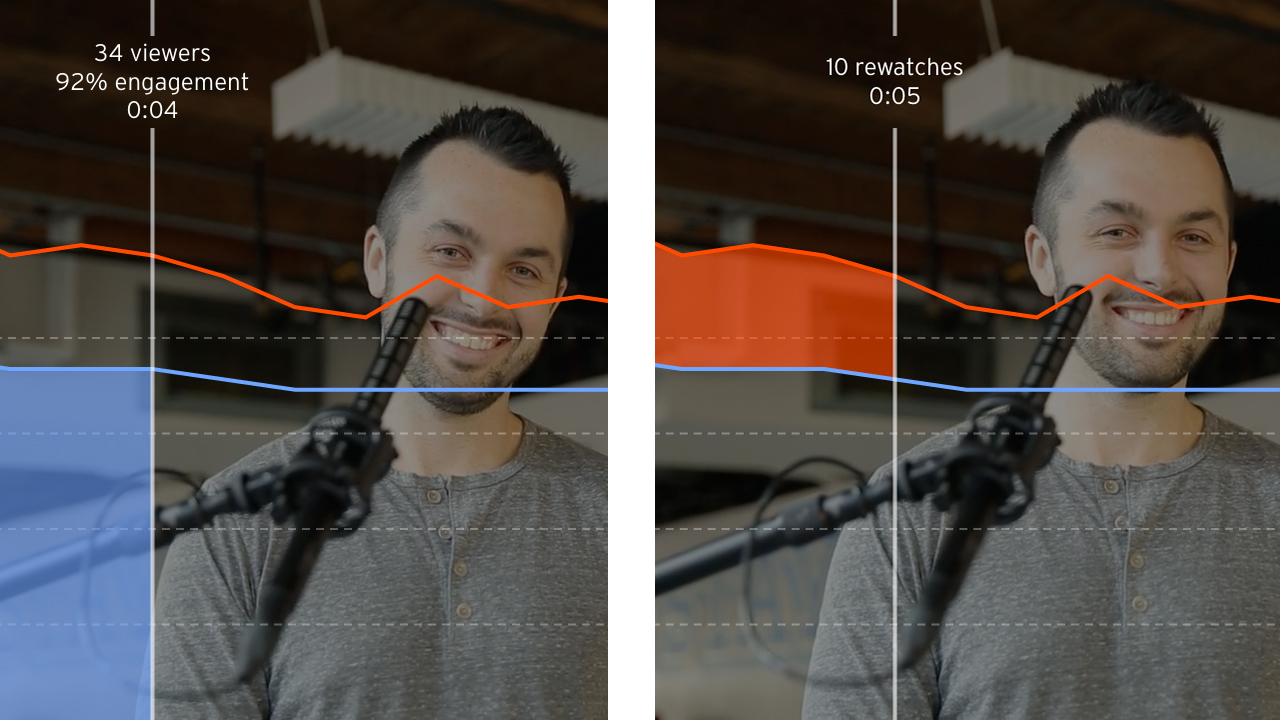 The blue section of the graph represents engagement. Did your video hold everyone's attention all the way through, or did it cause some viewers to drop off at certain points? This particular video has a relatively flat engagement line, which means that its viewers were engaged from beginning to end.
The orange section represents the parts of your video that were rewatched. A spike in rewatches might mean that viewers needed a bit more time to let something sink in, but it might also mean that they loved a section and watched it a few times.
Heatmap
A video heatmap is a graphical representation of a single viewing session of your video. Whenever a public viewer watches your video, the heatmap associated with their play will show you exactly how they interacted it. What parts did they watch, rewatch or skip altogether?
Here's a visual breakdown of all the valuable data contained in a single heatmap:

Further Reading
Want to learn more about how to use Wistia? We recommend checking out the Wistia Library, for lots of in-depth marketing guides. The blog is full of quick tips too!
Here's the list of our favorite posts: