Use Zendesk? Use Wistia? Well then, do we have the integration for you.

The Wistia for Zendesk App
Zendesk Support is Zendesk's customer support ticketing system. We use Zendesk every day here at Wistia, so we built an app to enable our team to share videos through support emails. Because why say something in a wall of text, when you can say it with your smiling face?
Getting Started
The Wistia for Zendesk app makes it easy to add videos to your Zendesk tickets to make your support interactions more human.
To get started, head to the Zendesk Apps Marketplace and install the Wistia for Zendesk app right into your Zendesk account. The installation process is quick and easy. We'll be here when you get back! 🙋🏽
Now that you've got Wistia for Zendesk installed, keep reading to learn all about your newfound support superpowers.
Add Video to Support Emails
Want to add videos to your Zendesk tickets? Time for some email love. 💌
Once you've added the Wistia for Zendesk app to your Zendesk instance, adding a video is super easy. Simply choose the Wistia icon from within the rich text editor. This should pull up a list of projects within your Wistia account.
Choose the project you'd like, and find your video (or use the handy dandy search bar!). Feel free to scrub through the video by hovering over the thumbnail, just to confirm it's the correct one. You can also play the video right inline, to be extra certain.
Select the video you'd like to add and choose Insert in Zendesk. This will automatically add the video thumbnail to your ticket!
Upload a Video within Zendesk
Shoot a quick video, but don't have time to upload it to Wistia? Well do we have a tool for you!
After opening the Wistia menu in the rich text editor in Zendesk, click into the project you'd like to upload the video to. From there, choose the upload icon and upload your video.
Video Links To
Sometimes you don't want people to watch the video within your Wistia account. It might help them to get more context if you sent them to a help page, or a blog post.
If that's the case, we've got your covered!
After adding your video to your email in Zendesk, click on the thumbnail within the rich text editor. You should see a pencil icon. Click the pencil icon, and edit where the video should link to.
Now when your viewer watches the video, it will be exactly where you'd like them to watch. Context and all.
Track Viewers in Your Wistia Stats
When you add a video thumbnail link to a ticket in Zendesk, the primary recipient's email address will automatically be tracked in your Wistia stats. No extra set up required!
After a person clicks to watch your video, you can see their viewing activity right in Wistia.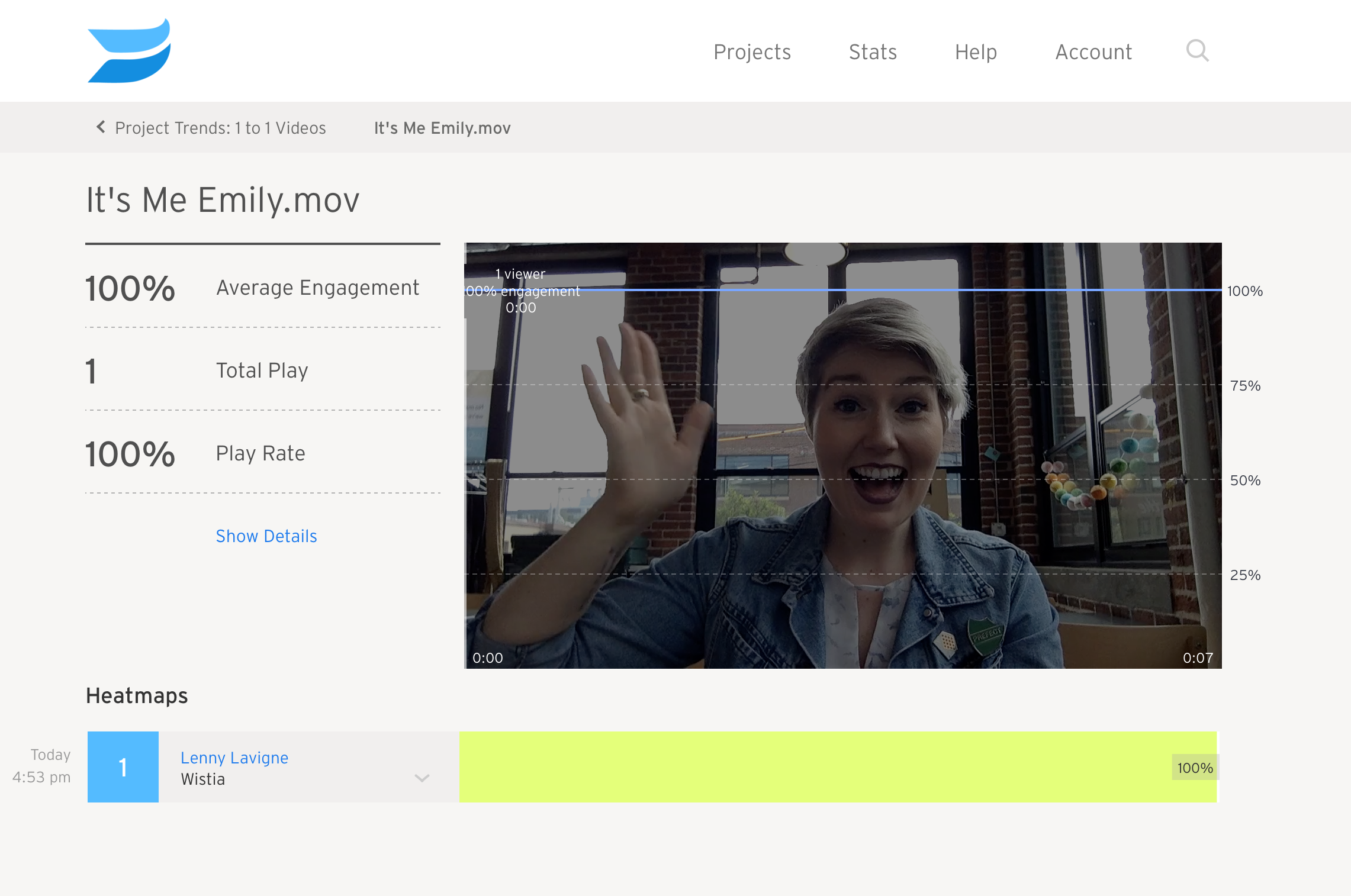 Understand how each individual viewer interacts with your content, and learn how to make better, more helpful videos in the future.
Resize the Thumbnail Image
Is the video thumbnail image a little too big for your liking? No problem. Zendesk's rich text editor for tickets makes it super easy to resize. Check it out:
Measure the Impact of Video on your Customer Support
When you choose a video to include in a Zendesk ticket, Wistia automatically adds two tags in Zendesk:
A general tag indicating that a video was shared in that ticket: wistia:video-thumbnail-link
A tag specific to that video: wistia:[the video's unique id]
You can use those tags to create custom views, see which videos are shared the most, and even see how videos impact things like customer satisfaction and ticket resolution time.
Tip
Learn more about using tags in Zendesk from these three great articles from Zendesk's help center.
Note
If you delete a video thumbnail link from a ticket before saving, be sure to delete the tag manually. The app can't remove those tags automatically.
Embed Videos in Zendesk Help Center
Help Center is a powerful self-service help center platform from Zendesk. And wouldn't you know it, you can add video to your help center articles with Wistia in just a few steps. Here's how:
In your Zendesk help center admin area, go to General --> Help Center settings.
In the Security section, make sure Display unsafe content is enabled ✅ and click Update at the top.
Copy an embed code for your video in Wistia, from Video Actions --> Embed & Share.
In Zendesk, click the source code button in the article editor toolbar:
Paste your Wistia embed code in there.
Click Update.
Alert
The Display unsafe content setting in Zendesk is meant to sound scary 👻, because it makes it possible for you to include third party code in your help center – but not all third party code is bad. Only add code from places you trust. Wistia embed codes are safe to use.