Any interaction your videos can take in your video lives in Timeline Actions. Add interactive tools like Turnstile email collector, Calls to Action, and Annotation links.
Want to add a call to action at the end of your video? Need a sweet email collector to capture leads? Then you need Timeline Actions, friend!
To add a Timeline Action, navigate to the video you'd like to add it to and choose Customize from under the ▸ Video Actions menu. In the Customize panel you'll see an option for Timeline Actions.
There are lots of ways to customize your video's timeline, but the biggest players are Turnstile email gate, Calls to Action, and Annotation links.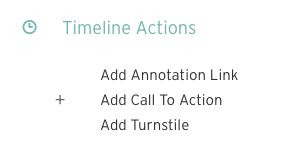 Note
For more information on tracking Action analytics, check out our Stats Overview page.
Before we dive into those, let's first walk through how your timeline works.
Using Waypoints
Any Action added to your video will appear as a waypoint below your video timeline. All Actions can be placed at any time within a video. To change when these Actions show up, you can simply adjust the time stamps under the Timeline Actions menu or drag the waypoints to the exact frame you want it to appear.

Annotation Link
An Annotation link is a great way to notify your viewers without interrupting the video.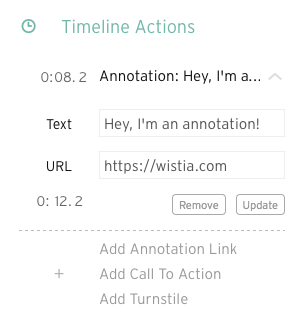 The Annotation link, when added, will appear in the upper right corner of the video, and it can stick around for as long as you'd like. You can adjust the time by updating the time stamps or dragging the waypoint below the video timeline. To make your annotation links longer or shorter, adjust the length bar by clicking and dragging.
Tip
If you want to create an Annotation without a click-through link just leave the URL line blank.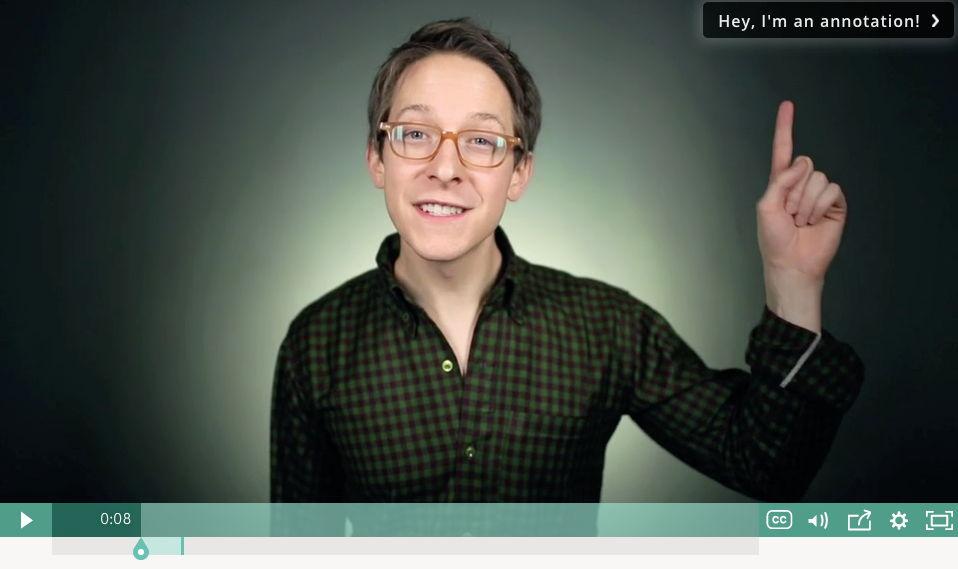 A Note on Device Support for Annotation Links
Calls To Action and Turnstile will work properly on pretty much every mobile device (all the environments we've tested at least... which is a bunch).
Annotation links are a bit different, because they appear over the video while it's playing. They'll work properly on any device where the Wistia player controls are able to function, which includes many Android devices and pretty much every desktop environment. iOS is a little more complicated, since videos played in the browser in iOS must always play in the native video player.
In iOS 8 on the iPad, where videos will appear "inline" by default (that is, they won't take over the full browser window), Annotation links will work fully. Woo!
On earlier versions of iOS (still talking about iPads and inline playback) the links will display, but can't be clicked. This is due to a weird bug that existed in iOS until quite recently. The bug caused any clicks within the area of a video to get swallowed into the inescapable darkness of a black hole. This wasn't the greatest...
When the native iOS video player takes over the full screen however, (which it always does on iPhones, and will do on iPads when the viewer chooses to), Annotation links cannot appear. That's simply because nothing can be displayed in front of the native iOS player when it's in fullscreen mode.
Call to Action
A Call to Action is a clickable message, image, or HTML script that appears anywhere in your video, and it lets your viewers know what you want them to do next.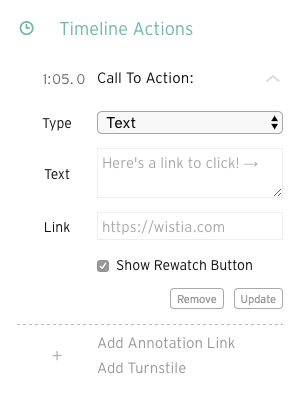 There are three types of Calls to Action:
Text: add a quick, customizable message that links to direct your viewers.
Image: use an image instead of a text link to direct viewers.
HTML: write your own custom Call To Action.
Note
When adding your link, make sure you include the http:// or https://.
Custom HTML Call to Action
You can build a custom HTML Call to Action that takes on-page or inline styles. Where possible, use on-page styles (i.e. including them in a <style> tag in the head of your page), because they may be stripped out during the customization process.
Note
Since HTML Calls to Action allow for advanced customizations (which could lead viewers away from our stats servers), they won't collect any Action stats.
It's also important to note—Wistia will strip out javascript from your custom CTA, so make sure to stick to HTML (and some basic CSS).
Turnstile
Turnstile is an easy email collector for your video content. It's great for lead generation, and connects with a bunch of great email providers to make tracking new leads super simple. It's so powerful, we made a page just for it. Read more on setting up Turnstile.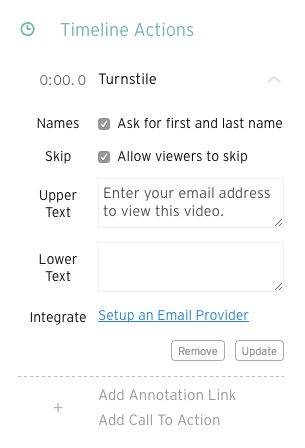 You can place a Turnstile at any point of your video by adjusting the time stamp or dragging the waypoint to the exact frame you'd like it to appear. Neato!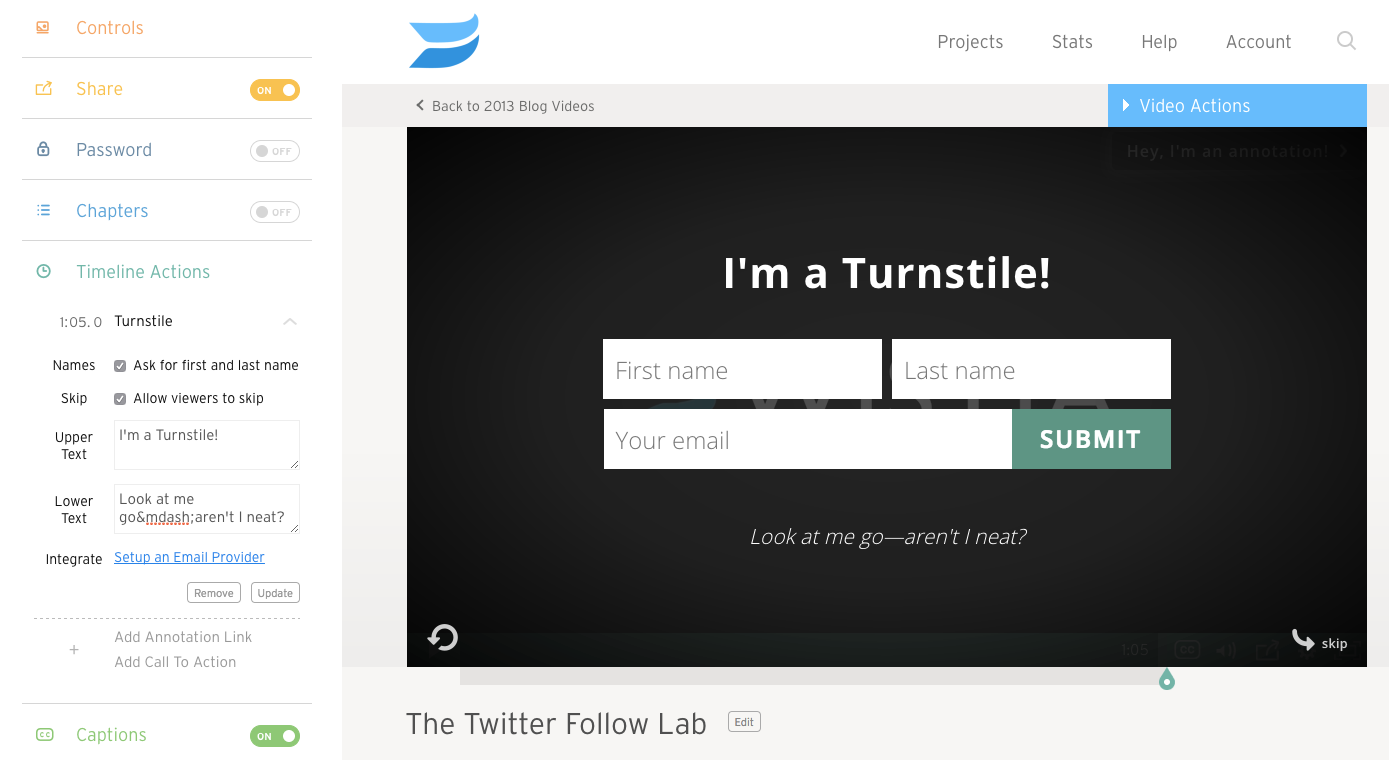 Integrate Turnstile with an Email Provider
Emails captured with Turnstile email collector can be piped directly to an email provider list, which makes it easy to follow-up with them.

To get started, click the Setup an Email Provider link under the Turnstile option. Choose your provider on the integrations page in your account, fill in the necessary details, and click that shiny Connect button. Then you're smooth sailing. ⛵️
Check out the full directions on the Turnstile help page to get your provider fully setup and linked.
If you choose not to integrate Turnstile with an email provider, you can check out Turnstile entries on the Audience page in your account.
Removing Timeline Actions
To remove any Timeline Action from your video, you'll want to navigate to the Customize panel, under the ▸ Video Actions menu. Select the Timeline Actions option, and choose the Annotation Link, Turnstile, or Call to Action you'd like to remove.
Click the Remove button, and make sure to Save your settings!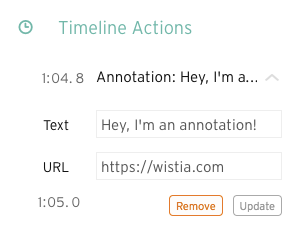 There's no need to re-embed your video—it will update out the in wild automatically.
Timeline Actions FAQ
Can I have more than one Timeline Action in my video?
Yes, kind of... You'll only be able to add one Turnstile, and one Call to Action to your video. You can add as many Annotation links as you'd like. The other big thing to keep in mind—Timeline Actions cannot overlap, so they'll have to be presented one at a time. But this video timeline is totally acceptable, if that's what you're into:

Can I further customize Annotation links?
At this point, it's not possible to move the Annotation link, or further customize its color. The reason for this limitation is currently that the other spaces on the player are "occupied"—the bottom of the screen needs to be able to accommodate the controls and play bar when a viewer hovers over the player, without interfering with an Annotation that may be located there.
Phew, that was a long answer. We know it would be a better experience for our users to be able to choose the location of the link, so we're working on making that possible. If that's something you're interested in, feel free to give us a shout in our support inbox.
Why can't I remove the Skip Button on a CTA?
The logic behind disabling the Skip option is due mostly to the nature of a Call to Action. Since it can appear anywhere in the video it's sort of fruitless for it to not be skippable, since it blocks the rest of the content from being visible. There's really no point in having anything after a CTA if someone can't skip it. The viewer is sort of just stuck there.
For this reason, we've made it so that the viewer will always be able to skip a Call to Action. The button will become a Rewatch button if the CTA is placed at the end of the video.
Can I change the copy on the Turnstile button?
When you move a Turnstile to the end of the video, the Play button will automatically become a Submit button. At this point, it is not possible to further customize or change the language of the Play/Submit button in Wistia.
Can I add a custom field to Turnstile? Like phone number?
Not with Turnstile out of the box. But our friends at FormKeep have put together a nifty custom Call to Action that allows you to add custom fields. Check out their guide here.