Don't have the time to read this blog post? Listen to it on your way home!

---
By 2019, 80% of all Internet traffic will be video, and as consumption continues to rise, so too does the need for increased accessibility. Closed captioning has been around on broadcast television since the early 1970s, but we've only recently seen it used more heavily across websites and on social channels like Facebook, where video content reigns supreme.
Regardless of where your video lives, captions are a great way to ensure that your viewers are consuming your content in the way that works best for them. After all, you want them to stick around and watch, right? Make it easy.
Benefits of captioning your videos
Beyond making your videos more accessible, captions keep your content competitive within the social media landscape and can even boost your SEO!
Accessibility
By adding captions, you're making your content more accessible to the Deaf or hard of hearing, non-native speakers, and senior citizens with limited hearing. If you're interested in learning more about how impactful captions are for the Deaf, check out this interview with Julian Moiwai who works at ZVRS, a technology company that offers video communication solutions for Deaf and hard of hearing people.
Social Media
Captioning your videos for social media is a great way to boost viewership. I don't know about you, but I actually get frustrated when I want to watch a video and there are no captions or overlaid text. This visual element is quickly becoming the norm on social. Don't deter viewers from watching your video because the message is reliant upon audio.
We recently made a Facebook video that promoted a blog post about changing your player color to match your brand. Keeping the platform in mind when planning out this shoot ended up driving its creative direction. If viewers turned the audio on, they heard a nice little jingle, but the sound wasn't necessary to actually get the message across.
With captions, viewers are able to watch your videos in places where they may have been less inclined to watch them before. Let your viewers enjoy your videos at restaurants, in shopping malls, or in just about any other noisy environment you can think of!
SEO
When you upload captions to your Wistia-hosted video, you get a little SEO boost! By ordering transcripts for your videos, search engines are able to crawl the full text of your audio or video content so that it's properly indexed. Captions are then injected into the metadata of your video when you use our Standard Embed – head over to our Help Center to learn more about that!
Captions for websites and landing pages
When it comes to captioning videos that live on your site or on a landing page, it's best to play it safe with subtle captions. For example, if you have a talking head video promoting a webinar, there's no need for flashy captions. With these types of videos, it's more likely that someone is watching from their desktop at work rather than on their mobile phones. Plus, if they've already made it to your landing page, chances are you have their attention.
With Wistia, you can have captions turned on by default, or you can leave it up to the viewer to turn them on – the choice is yours!
Notice how the video at the beginning of this post had simple, easy to read captions? When a video is embedded on a blog post, there's no need for showy subtitles.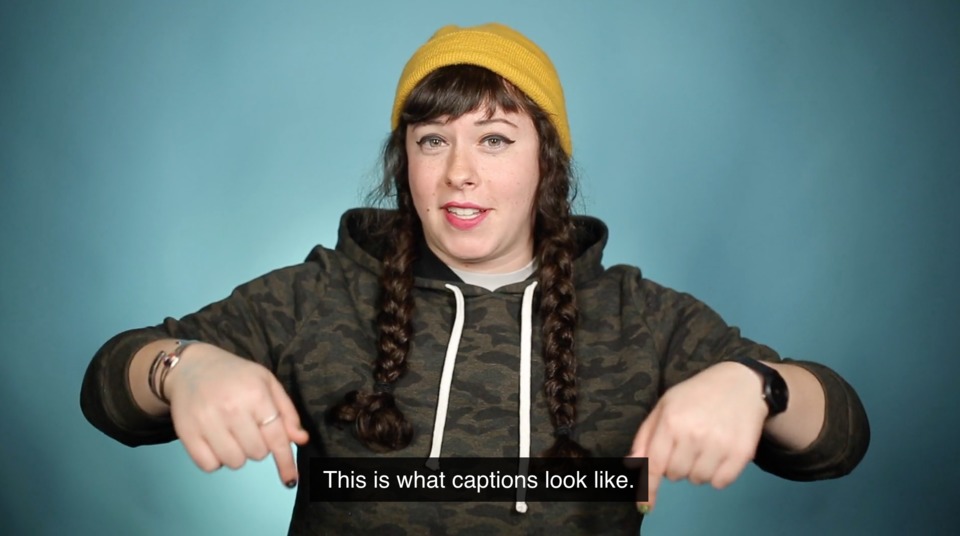 Thinking about the context in which your viewer is watching your video is super important. Generally speaking, websites should be informative and professional (with a touch of fun), whereas social platforms are more delightful or entertaining. Keep this in mind when deciding what style of caption you want on your video.
Captions for social media
When viewers cruise through their newsfeeds and pause on a video that's caught their attention, they might watch it, but chances are they won't play the audio out loud.
According to Digiday, as much as 85% of video views on Facebook happen with the sound off. Just think about it – your viewers might be in a meeting, on a train, or heck, even sitting on a toilet when they watch your video. Wherever your audience may be, you want to make sure you don't hinder their ability to get the most out of your videos. Employing a visual-heavy approach to videos posted on these channels does just that!
Check out this video from a recent campaign we ran on Facebook. This was part of a longer video series that promoted old pieces of content on our blog. These captions are a happy medium between very subtle and highly prominent:
In this case, there's no need for a viewer to turn on their audio. The gameshow-inspired audio track definitely adds a touch of humor, but the video can stand on its own without sound.
Social video captions that inspire
If you're feeling adventurous and want to take your caption game to the next level, try to think about baking captions into the production of the video.
There are a few brands who are absolutely crushing captioned videos on Facebook, so let's take a look at some examples and get inspired.
NowThis is changing the way that people consume news and information online. They have a number of sub-branches (NowThis News, Election, Future, etc.), but for the sake of this example, let's look at NowThis Entertainment. If you check out their Facebook page, you'll see that their entire feed is full of videos that are meant to be played without sound. NowThis relies heavily on visuals and text to convey their message:
Mashable relies solely on custom captions to articulate the story in their videos. If you turn the audio on, you'll notice that there's just a simple backing track, not a voiceover of the text on the screen. Check out this video that showcases a fully-robotic kitchen, and prepare to have your mind blown:
TechCrunch gets a bonus point for being on-brand with their captions. They make their content stand out in the feed with prominent captions that catch your eye. This green, transparent bar is consistent with their brand color palette and helps make their captions easier to read. It's a double-hitter!
---
Bonus Section: How to order captions from Wistia
So, now that you know when and where to use captions, let's talk about how you can get your hands on them! As it turns out, you have a few options. If you've done some preliminary Googling, you may have noticed these three little letters – SRT, or "SubRip Text" – cropping up just about everywhere you turn. SRT files are the standard subtitle format for videos. You can make your own SRT files using most common text editors, or you can order them through Wistia!
Captions for your Wistia-hosted videos are ready within one business day and cost $5/minute to transcribe. Here's the low-down:
Find the media page for the video you want captioned.
Under Video Actions, select Customize, and then Captions.
Select Order Captions (this is also where you can upload your own SRT file!)

Once everything is set, you'll receive an email notifying you that your captions are ready, and your viewers will now see the CC button on your video. For a more detailed look at how to create transcripts in Wistia, head over to our Help Center.
Multilingual captions are also an awesome way to make your videos more accessible to your audience. You can add captions in any language that you have an .SRT file for to your videos – we automatically supply the captions that match the language of your viewer based on the browser! Pretty sweet.
BLOG » STRATEGY

The Wistia Guide to Video Marketing

An all-encompassing guide to getting started with video marketing at your business