What's the point of paying for a video marketing platform like Wistia when YouTube is free?! YouTube is the world's biggest video platform, the second largest search engine in the world, has 1 billion users per month, and is owned by Google—so it must be great for SEO, right?
Not exactly...
Allow me, portraying two personified video players, to explain.
Wistia:
YouTube:
Hover on the player to view all the features that Phil references throughout the video.
Different platforms, different purposes
YouTube and Wistia are very different platforms, with very different purposes. YouTube is designed to serve content creators looking to monetize their videos, as well organizations investing in advertising and brand awareness.
Wistia is designed exclusively to serve companies using video on their websites for marketing. Essentially, Wistia is ideal for "on-site" videos, and YouTube is a social video platform that requires a unique strategy.
Where Wistia is better
Wistia is preferable if you're looking to drive traffic to your website, improve conversions, or increase engagement within your own platform or ecosystem. Custom video players tend to get more clicks, look nicer, and can be adapted to include or remove controls as you see fit.
Wistia embeds are typically faster to load than YouTube players (smaller files with fewer additional scripts) and are also responsively designed by default. Try resizing the page… see how the Wistia embed adapts and the YouTube one doesn't?
Wistia also allows for more detail with interactive elements in the video players. The turnstile email collectors help you generate leads, which you can send into your CRM of choice, and unlike YouTube—you can use custom HTML in calls-to-action.
Wistia's analytics also provide much more detail than the data offered on the YouTube platform. Rather than providing sampled and incomplete data, Wistia's in-depth analytics show you how your audience consumes and interacts with your videos. You can get an aggregated view of a video's performance with our engagement graphs, or you can drill down to see how individual viewers are watching your videos with our heatmaps. You can even attribute specific viewing activity to a viewer's email address.
"Wistia's in-depth analytics show you how your audience consumes and interacts with your videos."
Where YouTube is better
YouTube is better if reach is more important to you than traffic acquisition. YouTube videos typically drive traffic to YouTube.com from search and social, which means you can't track interactions with your content as effectively, and won't be able to drive as many profitable actions directly from your content.
If you work for an FMCG (fast-moving consumer goods) brand, or your customers primarily interact with your brand offline, then prioritizing reach over on-site interactions and tracking may be a fine decision. Equally, if you're undertaking a big branding campaign in order to increase word of mouth, and you don't mind rescinding control of how people watch your video, then YouTube is a more appropriate option.
What about SEO?
Video SEO essentially offers you two options—optimize for traffic to your site, or optimize for traffic to YouTube.
Wistia embeds injects structured data via JSON-LD into the page they're embedded on, including all the relevant schema.org markup to ensure Google can read and index the video. Transcripts (when uploaded) are also included. This means your page will rank for queries related to the video, usually including a "rich snippet" thumbnail in video search, and occasionally one in universal search.
Embedded YouTube videos help ensure that the videos on YouTube.com rank well. These videos will almost always have a rich snippet thumbnail, but the likelihood of a visitor going from your YouTube channel to your website is very low (referral rates are almost always <1%).
So, the question is: where do you want the traffic to go?
Can I just use both?
Yes! Just use them for different things.
Many companies choose to use Wistia for videos embedded on their websites in order to benefit from the advanced tools and analytics, but then also upload some videos to YouTube in order to benefit from the social reach that a presence on YouTube provides.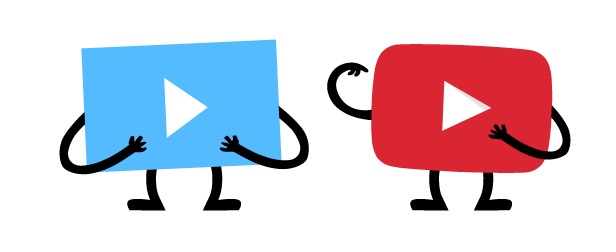 Much as the videos that work best on Facebook or Instagram aren't necessarily the videos that will work best on YouTube—so the videos you make for your website and YouTube usually require a different creative approach. YouTube is as much a social network as it is a video hosting platform, and when audiences watch videos on YouTube, they typically do so without any further context about your brand or the video in question. As such, not all of your videos will necessarily make sense to the broader public browsing on YouTube.com and each videos needs to be made valuable for a new, brand-agnostic audience. YouTube should be used strategically, as part of a wider video marketing strategy, and not just as a cupboard where all videos are held and hosted.
With your website, however, videos are confined to specific pages and you can therefore rely on assuming much more prior knowledge and context to inform your creative ideas. For example, consider our videos on this page or this page, which would never make sense outside of their respective contexts.
If choosing to embed the same video on your site with Wistia, and upload it to YouTube, it's important to be aware that having the videos in two places can sometimes cause cannibalization in both search and social.
YouTube can rank above your domain for competitive keywords, and if users choose to share a YouTube version of a video rather than the version of the video on your site, then you'll miss out on the user-based tracking that Wistia provides. This can be an acceptable price to pay for the additional reach, but each business needs to assess this risk and opportunity in accordance with their own marketing priorities.
BLOG » STRATEGY

The Wistia Guide to Video Marketing

An all-encompassing guide to getting started with video marketing at your business