A couple weeks ago, we published our guide to how people use Calls to Action in their videos. Using data from across all Wistia-hosted content, we discovered which methods resulted in the highest conversion rates. Today, we thought it would be useful to step back and take a quick look at all of the Timeline Actions to see how our current customers are approaching video conversion as a whole.
We designed each Timeline Action to perform a specific job. For example:
Call to Action: Great if you are promoting a new product or feature and want your audience to go to a product page after watching the video.
Turnstile: Our email collector is useful if you're trying to build an email list around your video content or stay in touch with viewers to nurture them after they watch.
Annotation link: Annotation links are helpful when you are giving explicit information during your video and you want to direct people to the right pages throughout.
Analysis: how often each Timeline Action is used
Calls to Action are by far the most popular Timeline Action. A full 62.1% of customized Wistia videos are using a Call to Action somewhere within the video. Turnstiles can be found in 34.5% of videos using Timeline Actions. Annotations account for just 3.4% of these videos.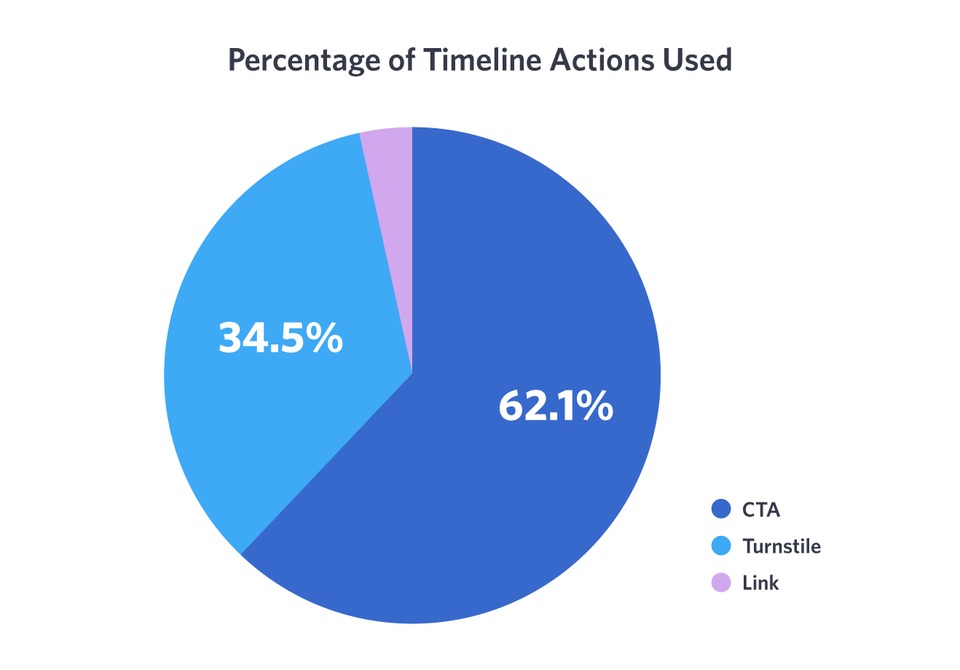 The data suggests that most people are using videos to promote a specific product or feature rather than to build an email list. And for good reason: Wistia Calls to Action have an average conversion rate of 11.04%.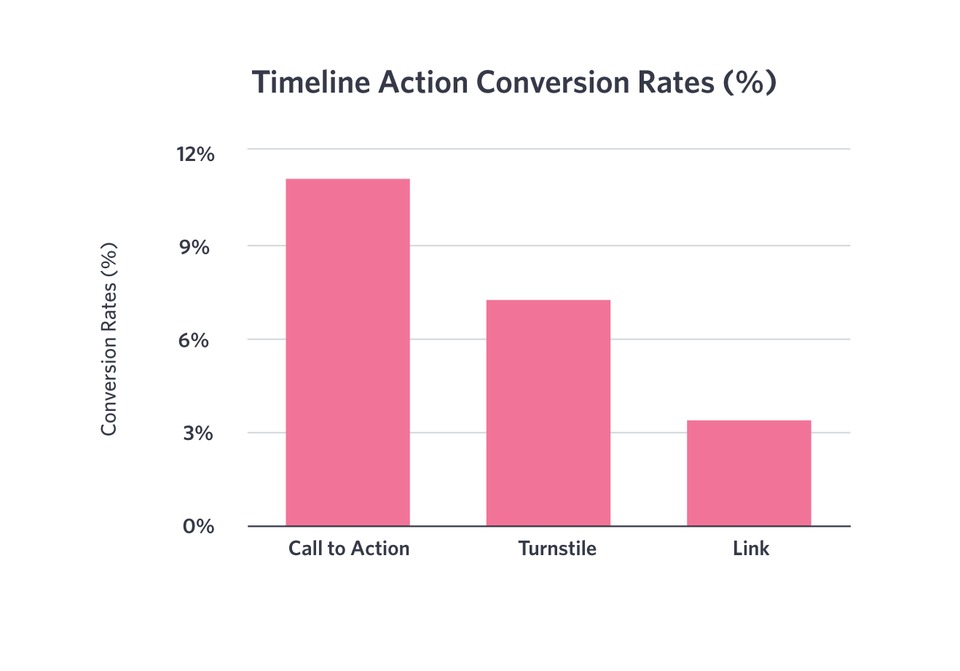 Turnstiles (7.2%) and annotation links (3.4%) appear not to convert as well, but the data is somewhat misleading. Remember that Turnstiles have higher stakes, since they ask for an email address as opposed to a click, and annotation links don't stop the video when they appear. In general, the lower the stakes, the easier it is to promote action, so comparing conversion rates between all three isn't an apples-to-apples comparison. Also, note that a 3.4% click rate for a non-obtrusive link is pretty high regardless of the platform and medium.
How Fleetio uses all three Timeline Actions
Can you use all three at once? Certainly! Fleetio's feature overview video uses a mid-roll Turnstile to capture emails, annotation links to offer live demos, and finally, a Call to Action to show viewers where to go next. We wouldn't always recommend a mid-roll email gate, but for this video, it's an effective way for Fleetio to stay in touch with people who are already pretty far along in the consideration process.
While this video pulls off combining all three Timeline Actions well, we wouldn't recommend this in every case. Each Timeline Action has a specific goal, and so does each of your videos. Too many options can water down the power of any of these customizations. Whether you're describing a new feature, promoting your brand, or teaching your audience, choose the Timeline Action that best fits the video, and let the content lead the way.
Takeaways
Though Calls to Action do have the highest conversion rates, we offer different Timeline Actions because they all perform a different job within your video:
If you want to drive people to your site from the video, or perform a specific action, use a Call to Action.
If you want to capture emails, then use a Turnstile.
If you want to quickly show people where they can get more information, use an Annotation link.
For an in-depth look at which language, format, and colors are most effective in Calls to Action, read our guide to using video CTAs.
BLOG » STRATEGY

The Wistia Guide to Video Marketing

An all-encompassing guide to getting started with video marketing at your business