This post is part of our Non Sequitur Fridays series, which will feature a different Wistia team member's take on a non-Wistia-related topic each week. It's like our "employee of the month" but less "of the month"-y. Ezra Fishman is director of marketing at Wistia.
I've always dreamed of having a company softball team. That dream has finally come true.
The Wistia softball team – affectionately named Uncle Benny's Beer Brigade – made its season debut earlier this month. And we got absolutely demolished. I mean, it wasn't even close. We were barely able to hit the ball out of the infield. Lazy pop flies were falling at our feet. By the third inning the umpire was laughing at us. And it was amazing.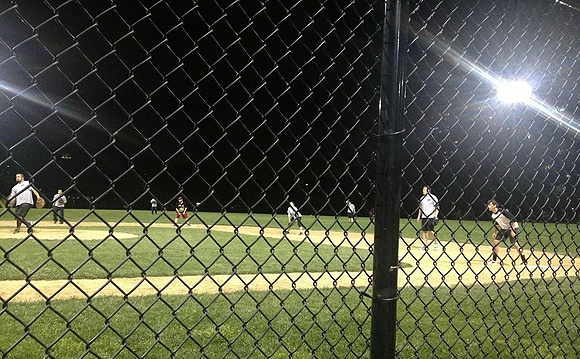 To be clear, I'm a competitive person. I love winning. But when our company is only 18 people (most of whom have never touched a softball before) and we have 15 show up to our first game... well, we've already won at that point, at least in my mind.
So yeah, that first game was a little rough. And so was the game after that. And the next one.
And then a miracle happened. We learned to play together. We started hitting home runs. Our confidence blossomed. We made a historic run into the playoffs. And then, against all odds, we won the championship on a last second play called the Flying V. No wait, that was The Mighty Ducks.
Here's what we did: we continued to play each week less miraculously, but with a ton of enthusiasm (thanks mostly to Jordan!). And we have been steadily improving. We now score some runs on occasion. We strike out much less frequently. We've been known to field a routine ground ball and get an out at second... even when there's a big dude barreling down on us. Nice work Mercer!
Oh yeah, and we even won a game!
When we signed up for the softball league, I figured we'd have a consistent 7 to 8 players from Wistia and I'd have to get friends to fill out the rest of the spots. So far, we've never needed more than 1 sub. We've even had an occasional weekend practice that's drawn solid attendance.
And for me personally, I've learned that even more than playing softball, I love teaching softball. There's something incredibly satisfying about seeing frustration turn into accomplishment and knowing that my advice helped with the process (or at least didn't hurt).
But the coaching has also helped my game improve. After playing baseball/softball for a couple decades now (dang, I'm old), both the good habits and the bad habits have really cemented themselves. When I start teaching the mechanics of softball to someone new, I quickly realize that there are tons of aspects to the game that I haven't given conscious thought to in years, if ever.
So thanks guys, for letting me teach and making me better!